St David's will host the annual Gilbert Lamb Day on Good Friday [Apr 3], with kite flying, food, games, races and of course the always popular Mohawk Grande Prix.
A spokesperson said, "We are at it again doing it as only St David's County Cricket Club Inc. can do – it's Easter and what better way to celebrate than with the Community of St. David's at Lord's, Home of the Warriors.
"Come expecting lots of laughter, lots of food, memories of yester Good Fridays and Easter celebrations and out fits, Easter Sunday menus, bragging rights to the best hot cross buns and fish cakes, visiting with child hood friends and meeting new friends and visiting with ones you haven't seen since last year and keeping in memory those who have gone before us.
"Activities for the children as well as the adults and the Mohawk Derby Go Kart Races and the Pedal Cycle Races. Vendors will also be in place for those who like to travel light and untroubled, bring your ez-up tents, your cots, your chairs, your family and friends as there is plenty of space for everyone.
"The Executive and Management of St. David's County Cricket Club would like to share the following information with you and ask that everyone please pay close attention the information regarding parking, road closures and bus schedules, it is very important that things are done in decency and in order:
"All spectators are asked to be mindful of your children and pets [yes, they come too], due to safety concerns there are changes to the course rules for spectators and you as spectators are encouraged to comply this is all very very important not only for the racers safety but yours as well."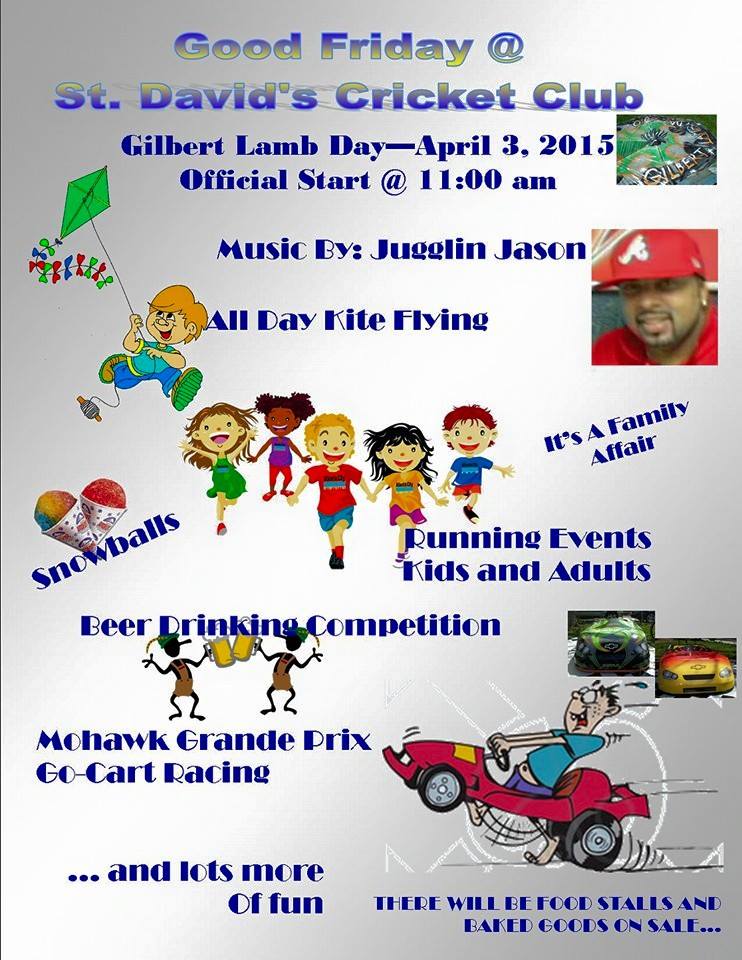 Race Information:
Start at 4:00 p.m. – Cycle Race
4:15 p.m. – First group of Ranging Go Karts
4:30 p.m. – Second group of Ranging Go Karts leaving
Length of each race: 8 – 10 mins
Route For All Races:
Start: St David's Lighthouse on to Mount Road junction with St Luke's Lane down to Texas Road onto junction with Lighthouse Road on to Great Bay Road to finish at St David's County Cricket Club Inc. gates. – all spectators get in place early – see guidelines below for parking and street closures
Parking:
St. David's County Cricket Club grounds – gates will close at 2pm
Field next to the former Police Barracks on Southside – closed when full
Old Hospital area – closed when full or at 3:30pm
Clearwater Middle School Parking lot and field to the back of the School – no parking on "Pepper Hall Road"
Black Horse, St David's Post Office – closed when full or prior to 3:30pm
St David's Primary School P1 and P2 area – closed when full or prior to 3:30pm
Battery Area: Nursery Parking Lot and across the street – Motorists are asked not to park on the narrow streets in the Battery area – note the junction with Battery Road will close at no parking on the roads in the Battery area
No Parking:
Battery Road behind the Club
Great Bay Road from Junction of St. David's Road
Pepper Hall Road
Motorist are asked to be mindful of how they park in the parking areas. At no time are cars to be parked along the main roads in St. David's as the buses will be operating on the Main Road and South Side Road
Road Closures:
Lighthouse Road and Mount Road Junction from3:30pm until 4:45pm
Lighthouse Road and junction of Texas Road at 3:30pm until 4:45pm
St. David's Road to junction of Pepper hall Road at 1:00pm – leaving access to Buses onto Pepper Hall Road no parking on this portion of the road
Orange Hole and Pepper Hall Road junction access only for Residents no parking on this road – 2:00pm
Great Bay Road junction with St David's Battery Road – no parking on this road –
"Come early to avoid disappointment and maybe a parking ticket," a spokesperson added.
Read More About
Category: All, Entertainment