The second annual Glasgow Rangers F.C Soccer Schools Camp kicked off on Monday with almost 100 boys and girls from football clubs across the island are taking part in this week's camp.
North Village Community Club Youth Technical Director, Cal Blankendal said "The feedback from the young athletes and parents has been overwhelmingly positive. The quality of instruction and discipline that the Rangers coaches bring to this camp is impressive. It's great to see so many children taking advantage of the opportunity".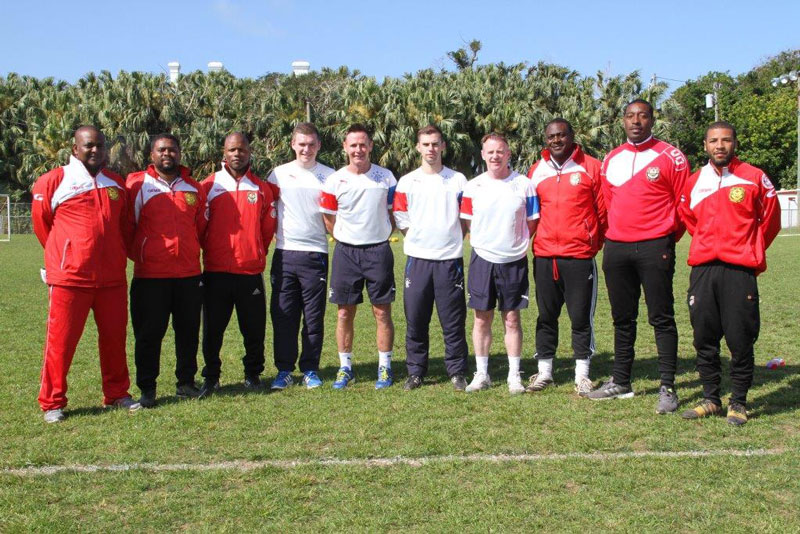 "But Bermuda has not seen the last of the Rangers training style", continued Blankendal. "One of the goals established from the five-year deal signed between North Village/Rangers is to implement Rangers curriculum within its youth football programme."
"In order to continue the work that the Rangers coaches have started this week, and in an effort to continue to build on Bermuda's premier youth football programme, North Village has five local coaches, plus myself, shadowing and being mentored by the Rangers professional coaches this week."
"In addition, there will be a formal coaches' education session this evening. We will discuss the curriculum, player evaluation, coaching evaluation, lesson plans and player/parent annual reports. It is a paradigm shift North Village will be making to a more formalized and structured setup".
When asked of his first impressions, John Joyce, Glasgow Rangers F.C. coach was quick to respond "We aim to develop professional youth players. Similar to last year, we have been impressed by some of the talent that we have seen in these first few days. We have noticed the development in some of the children who attended the camp last year, which is very exciting indeed."
"The North Village coaching staff have been very dedicated and are quite eager to implement what they have learned this week. The coaching education that is being absorbed will undoubtedly aid in ensuring that the Glasgow Rangers F.C. curriculum be implemented successfully at North Village".
Joyce said, "We continue to be very pleased with the Rangers/North Village partnership and expect that it will be a very fruitful one over the coming years."
North Village will be traveling to Canada with Glasgow Rangers F.C coaches this summer for their third annual Rangers football tour. Blankendal said, "Glasgow Rangers F.C. have relationships globally.
"That gives us the flexibility of changing our destination every year if that's what we decide to do. The important thing is that we still provide our players with the opportunity to train, compete and be evaluated by Glasgow Rangers professional coaches. It's a win-win."
To receive future camp information or to get more information on traveling with North Village and Glasgow Rangers F.C. visit www.northvillage.bm or email camps@northvillage.bm.
Read More About