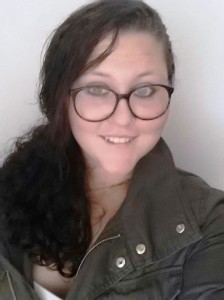 With tourism season just underway, Brown & Co. has altered its Queen Street entrance to showcase local art with a distinctly Bermudian flavour, featuring Gibb's Hill Lighthouse, a pink Bermuda cottage, moongate, a Gombey and more.
Four of the windows on Queen Street are now framed with Bermuda icons and landmarks painted by rising local artisan, Rebecca Martin [pictured] who was eager to take on the project when approached.
Ms. Martin said, "I guess Brown & Co. heard about me when asking around for artists.
"Either way, I was so excited after my first meeting with their Marketing Manager, though a bit nervous knowing that there was a clear vision that needed to be executed.
"Basically, I provided paintings of Bermuda icons as individual elements and their graphic designer complied the illustrations across the four windows."
Included in the vibrant graphics are Gibb's Hill Lighthouse, a pink Bermuda cottage and moongate as well as a Gombey.
One window was clever enough to bring Front Street to Queen Street with a birdcage complete with a uniformed police officer, Brown & Co. Front Street exterior and Bermuda flag.
"We wanted to experiment with something unique this season and once the concept presented itself, our Marketing Team quickly turned around an activation plan, which was flawlessly executed," explains General Manager of Brown & Co., Nicole Warren.
"Not only will the window display act as a conversation piece, but in the near future we'll use its contents as an opportunity for shoppers to win fantastic prizes."
The newly remerchandised division houses a variety of Bermuda gifts and souvenirs, beach gear, hats and flip flops as well as a wide selection of Bermuda sweat tops. Additionally, designer sunglasses and fragrances are available in-store via CoCo's at Brown & Co.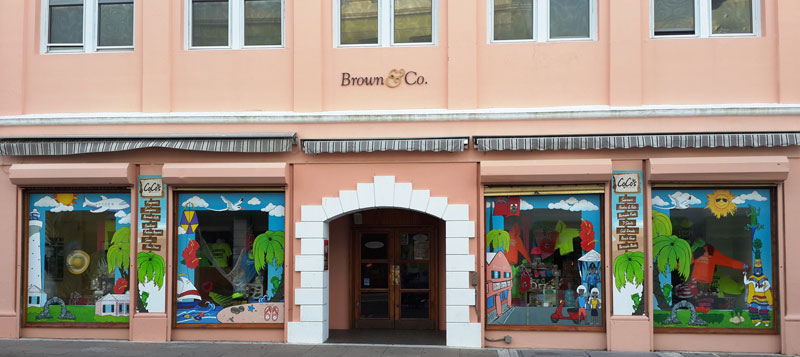 George Grundmuller, CEO & President of the Phoenix Stores Ltd. comments; "Brown & Co. has always been a premier shopping destination for visitors to the island. This year, we are delighted to have many new products on offer within our expanded souvenir department.
"Consumers can expect to see new T-shirt and resort wear lines in-store and with the new and engaging window display, we anticipate many photo breaks from shoppers and onlookers as we've already had so many pop by and comment on how fabulous the display looks."
Those interested in taking advantage of upcoming promotions featuring the window displays at Brown & Co. can like the retailer on Facebook at Brown & Co. or follow them on Twitter @brownandcostore or Instagram @brownandco_bda.
Additionally, special offers will be available via email distribution to those on the Brown & Co. emailing list.

Read More About
Category: All, Business, Entertainment, News