The next time your refrigerator breaks, there'll be more trained technicians around to quickly get you up and running again as five individuals have recently graduated from an intense four-week training program at Fred's Appliance Academy in Ohio to become certified Major Appliance Technicians.
Jerome McNee, Robyn Smith Gibbons, Clifton Ross, Ian Tyree and Phillip Woolridge all took part in the initiative which was sponsored by the Department of Workforce Development who funded the men's training.
An appliance repair technician installs and troubleshoots front and top load washers, dryers, dishwashers, refrigerators, microwaves and other large appliances for their customers.
They must know how to connect water or gas lines, and how to check for leaks once the appliances are installed. They instruct their customers on how to operate the appliances properly. Repair technicians must repair or replace any defective components found in appliances and must know how to dismantle and reassemble appliances to make their diagnosis.
"I understand from an industry partner that most of the current personnel filling these jobs are semi-retired or approaching retirement or are very busy and can't meet the demand of the cliental," explained the Minister of Home Affairs Michael Fahy.
"Therefore I commend the Department of Workforce Development for recognizing this potential gap in the workforce and directing resources towards the training of motivated Bermudians interested in this field of work.
"And, believe me, these guys are definitely motivated. I understand that some of them happened to be abroad conducting their training during the recent snow storms in March and, despite the bad weather and flight cancellations, they caught various shuttles and trains to ensure that they made it to their course on time."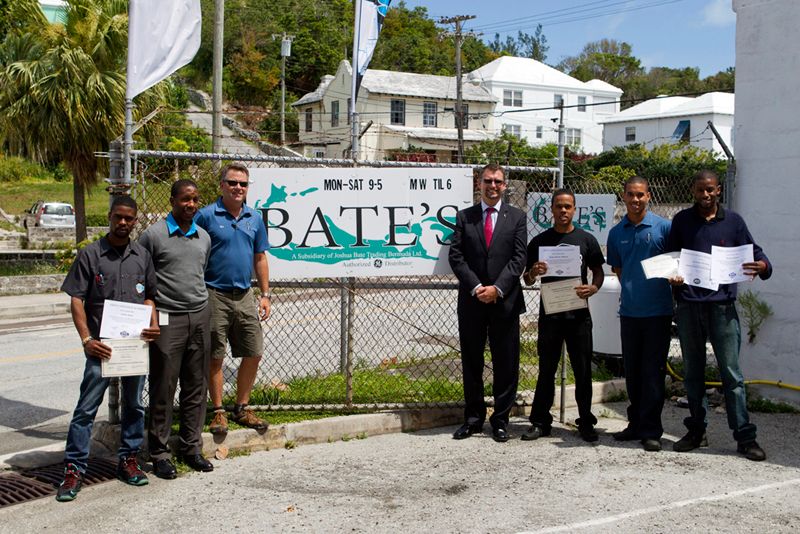 The course the graduates undertook saw them gain the following certifications:
EPA R-410A Technician Certification
Major Appliance Technician Certification
Samsung Technician Certification
Three of the graduates have already been hired within the industry.
This initiative came about as a result of an industry partner, Bates Trading, looking for assistance in training a Bermudian in the field of 'appliance technician'. As a result of surveying other industry partners in this field across the island it was ascertained that there was a shortage of trained technicians. This is where the Department of Workforce Development stepped in to try and fill the void for this under-served trade.
Similar training opportunities which have been funded by the Department of Workforce Development over the past few months were the Supervisory Custodial Management Course and Electrical Codeology training for electricians.
One of the graduates, Mr. Jerome McNee, said: "I would like to thank the Department of Workforce Development and the Ministry of Home Affairs for funding our training in the major appliance profession in Madison, Ohio. There is a demand for qualified service technicians and government answered the call by sending us to an industry-recognized institution to receive valuable training and knowledge.
"I would like to give a special thank you to Mr. Kenneth Bartram at the Department of Workforce Development who played a significant role in sending us overseas to receive the training."

Read More About
Category: All, News, technology