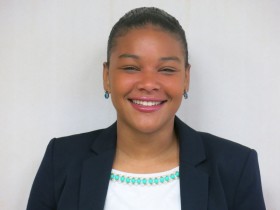 The Fairmont Hamilton Princess today [Apr 15] announces the appointment of Alanna Butterfield to the Leadership Development Programme [LDP].
Ms Butterfield will work in the human resources department, reporting to the director of human resources.
The company said, "The LDP is designed to put high-calibre university graduates and current colleagues who have been identified as high potential performers on a training track to become executive-level managers within five years and hotel general managers within ten years.
"The 18-month programme Alanna will complete at The Fairmont Hamilton Princess includes the following rotations: recruitment, onboarding, relocation and labour relations and performance management.
"After completion of the initial training programme, a key component of the LDP is to provide candidates with an opportunity to gain international experience in a managerial level position in any one of the Fairmont, Swissotel and Raffles hotels."
"We are delighted to welcome Alanna to The Fairmont Hamilton Princess team," said Jeanette Matthew, director of human resources at The Fairmont Hamilton Princess.
"With a background in psychology and strong interpersonal and critical thinking skills, Alanna is a natural fit for a career in human resources. At The Fairmont Hamilton Princess, we strive to train future hospitality leaders and make it a priority to invest in local talent. We look forward to seeing Alanna grow in her new role and know she will be a valuable addition to our team."
Alanna has a bachelor of science in psychology from Georgia State University and recently earned three certificates from eCornell, an online certificate programme focused on marketing, management, hospitality and human resources issued by Cornell University.
Prior to joining The Fairmont Hamilton Princess, Ms Butterfield worked for more than one and a half years at The Fairmont Southampton, first as a Guest Services Agent and most recently as an Engineering Coordinator.
"I am honoured to have been chosen for the Leadership Development Programme at The Fairmont Hamilton Princess. The hands-on training I will receive through the programme is an amazing opportunity and will help me reach my goal of becoming a well-rounded HR professional," said Ms Butterfield.
"There are so many new and exciting things happening at The Fairmont Hamilton Princess, I could not have asked for a better hotel in which to gain this valuable experience."
Read More About