Chewstick Foundation Executive Director Gavin Smith has been acknowledged by Imagine Bermuda as a "Hospitality Hero" during BHI's Hospitality Month, with Mr. Smith saying that hospitality "is hand-in-hand with arts, culture, and entertainment."
The theme of Hospitality Month encourages everyone to "Experience Bermuda," with the purpose being to promote the industry's economic importance, recognize and celebrate individuals and organizations representing the best of the industry, and to focus on the role all residents play in promoting Bermudian hospitality.
Mr. Smith said, "It's definitely an honour to be acknowledged as a Champion of Hospitality for Hospitality Month. I think for myself and the work of the Chewstick Foundation, it's really been about trying to create opportunities for local arts, culture and talent to get the development that they need so that they can really embrace the industry as a whole.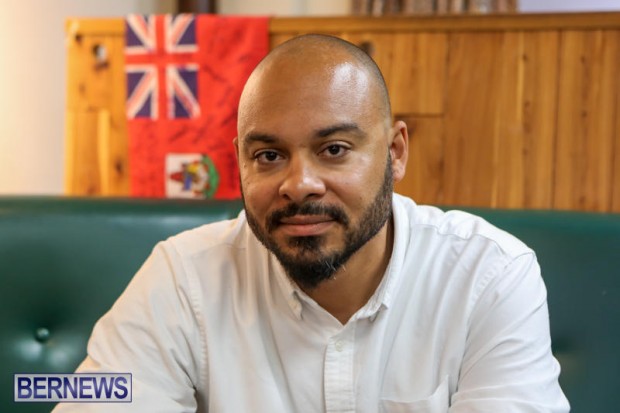 "And I think it's proven successful with breaking barriers and building bridges across a wide variety of demographics.
"We've seen tourists coming to Backatown, coming to some of our events, and as well as the different types of locals that come out to both experience and support Chewstick events and initiatives.
"It really shows that it's possible to bring everyone together. There are opportunities that we maybe haven't capitalized on fully as a nation, and these are the things that I think were successful way back in terms of attracting people and attracting a general feeling of positivity in the community, and we're trying to hone in on that and to bring it to the spotlight.
"Hospitality for us is hand-in-hand with arts, culture, and entertainment."
When asked what he thinks Bermudians can do to help move that idea forward, he said, "I think just generally people always wait for the experts, so we wait to be deemed an expert before we really jump in and try to assist."
"I think, fundamentally, the first hurdle is thinking about the way that it can be done differently, and I think a lot of times people sort of sit on their couch or sit on the sidelines saying 'they should have done this' or 'they could have done that.' Who's to say that you can't, or that you shouldn't?
"So if you've got an idea, that's the first seed and I think its to sort of an opportunity to plant it and water it and figure how to make that seed a mighty cedar.
"That's where I think a lot of the different organizations beyond Chewstick – even you guys at Bernews have really kind of been watering the culture and helping us to really grow. And I think this is the cornerstone of of any successful hospitality initiative; we need to know who we are, how we are, why we are, and what is our purpose.
"I think things like Chewstick create opportunities for people to fulfill their purpose, And I think everyone just needs to get on board.
"With us right now, we're in this space where we're trying to redevelop this new property at 81 Front Street and it's a big project, it's expensive, and we're trying our best to raise funds and awareness about what this is going to mean to the economy and to the industry.
"But we need help; so, if you have money, you can help us out by donating to the Chewstick Foundation's new culture hub on Front Street.
"If you've got skills, we're getting ready to renovate now and so we can use that help. If you've got ideas about what you'd like to see happen at this space, get ready, because it's coming."
When asked for his thoughts on Bermuda's perceived loss of a hospitality-based attitude, he said, "I definitely think that back in the day, there was more economic incentive to keep locals fully engaged in hospitality."
"I think as we got stronger as a nation and economically speaking, a lot of our people wanted to go into business or into the office, and that flight from hospitality had some real ramifications for the sector. But I think that spirit is still there; we just manifest it in different ways. In Bermuda, generally, are some of the nicest people on Earth.
"I think the classic Bermudian approach to hospitality on the street, it's still there. It's just that we need to reinforce it and remember."
When asked why Bermuda is such a special place, he said, "Bermuda is a special place because it really is a melting pot type of society; it's got such a interesting mix.
"We've got the colonial heritage, a West Indian, American, European mashup of culture.  These dynamics really do manifest in unique ways, and I think in a lot of instances, Bermuda could and should be looked at as a model for how things can work for the rest of the world. But we need to figure it out and everything that has been successful in the past, we should use that as inspiration for creating a new success.
"I think the cornerstone of that success has been reliance, creativity and making the best of a really limited situation, when you think about it; we don't have any natural resources to survive off of.
"We've got an import culture; we have this very educated society, we've got a very open society, we've got a society that is heavily in touch with what's going on in the world, and I think these things make us very strong, but we need to be focused and have a vision for our future.
"I think that's what's really causing us to languish right now; we don't really have a collective understanding of where we want to go – and it's got to be beyond what we're trying to run from, it's got to be where we're running to.
"And that's where hospitality, I think, plays a part, because it is something from the past, but it's actually something that we need to figure out, because we have this jewel; people want to come here, people want to play here, they want to stay here. We all want to play here and stay here, so we've got to figure this one out, and this is just part of a successful Bermuda."
Read More About