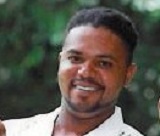 Five years after Kimwandae Walker [pictured] was shot dead in front of his two small children at a Good Friday Fun Day, the police have appealed for anyone with information to come forward and "help bring Mr. Walker's killers to justice."
A police spokesperson said, "Tomorrow [Good Friday] will mark the five  year anniversary of the killing of Mr. Kimwandae Walker on the field of Victor Scott School in Pembroke Parish."
"All of us remember the brutal murder that occurred shortly after 2pm on Good Friday [2nd April 2010] when two men on a motorcycle rode onto the School Field and targeted 35 year old Kimwandae Walker of Pembroke Parish.
"He was shot multiple times while he was in attendance at a Good Friday fun day. Good Friday was a clear sunny day and there was nothing obvious in place to obstruct the views of the 30 to 50 persons that were present.
"Mr. Walker was in attendance at the event with his [then] nine year old son and five year old daughter who tragically watched as their father was shot and killed.
"We call on all members of our community who wish to see these killers brought to justice, that have information that can assist, to come forward. Remember if you saw something say something.
"Five years on, Mr. Walker's family will be flying their kites without him. Mr. Walker's children are now 14 & 9 years old respectively. Help bring Mr. Walker's killers to justice."
A look at a vigil held in Mr Walker's memory in 2011:
"The Serious Crime Unit can be contacted on 247-1739, or call the main Police number at 295-001 to speak with a Detective. Or alternatively you can call the Crime stoppers hotline number on 800 8477."
Read More About