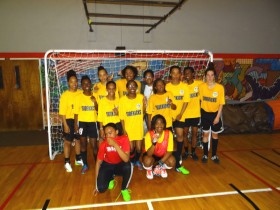 Fans were treated to an exciting game at the Women's Futsal All-Star Game this weekend, with a total of 25 goals being scored.
The West team started fast going 3 goals up, behind league scoring champion Aaliyah Nolan's 2 goals and it looked like they would run away with the game again this year.
However, Rayni Maybury came on for the East team and helped her team mates settle down. At half time the West led the East 4 – 3.
The second half saw both teams go back and forth scoring a series of incredible goals along with outstanding saves by both goal keepers.
Just before the end of the game in regulation time the East led by one goal and it looked like they would finally win. However, with seconds left to play, the West scored 1 goal to tie the game at 8 all.
For the first time in the All-Star game, two 5 minute extra time periods were played and the West jumped out to a 1 goal lead, but in the second overtime, the East equalized and came storming back to take a 1 goal lead in the dying seconds of the game behind Cheyra Bell's 2 goals.
Just when it looked like the East would finally win, the West scored to tie the game up at 12 all. It looked like penalties would have to decide the winner, but the West's Wade scored a rocket to win the game 13 – 12.
The West was led by Wade's 5 goals, they also got 4 goals from Nolan, while Jessica Furtado and Taznae Fubler adding 2 each. The East was led with 4 goals from Bell and Maybury along with 2 goals from Jada Samuels and 1 goal each from Nia Christopher and Cleshaunay Darrell-Virgil.
At the end of the game, League and All-Star Trophy presentations were made by representatives from the Bermuda Football Association Shequita Parsons and Troy Lewis, Bermuda Futsal Federation Peter Sousa and Kenny Dill and overseas guest Keith Tozer, FIFA Instructor, US Men's National Futsal Coach, US Futsal Technical Director and League Commissioner of the US Professional Futsal League
League Champions:- PHC Lady Zebras
Leading Goal Scorer:- Aaliyah Nolan – PHC Lady Zebras
Most Outstanding Goal Keeper:- Symira Lowe-Darrell – PHC Lady Zebras
League MVP:- Aaliyah Nolan – PHC Lady Zebras
All-Star MVP:- Tschana Wade – Somerset Hurricanes
A special Outstanding Achievement Award was presented to PHC's Coach Waynesha Bean, in recognition of PHC winning the League for three consecutive years.
Read More About