Jose Miranda and Tamika Williams are the 2015 Sir Stanley Burgess 5k champions following racing this past weekend.
Miranda clocked a winning time of 17.26, with Daniel Maguire finishing second with a time of 17.52 and Jahmai Lottimore finished third clocking a time of 17.52.
Williams picked up the female title when she crossed the line fifth overall clocking a time of 19.29, Bonnie Mills was the second female finisher and 12th overall clocking a time of 22.08 and finishing one spot back was the third female finisher Fiona Lines who clocked 22.21.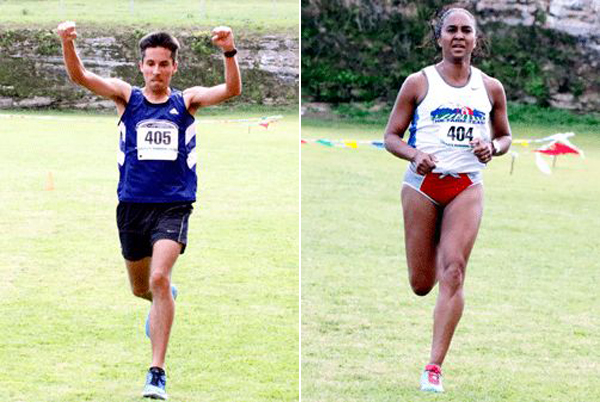 2015 Sir Stanley Burgess 5K results
Jose Miranda M 17:26
Daniel Maguire M 17:52
Jahmai Lottimore M 17:54
Neil Halliday M 19:29
Tamika Williams F 19:35
Scott Neil M 19:59
Deon Heyns M 20:01
Jonathan Lee M 20:23
Jerome Wellman M 21:19
Yannis Akil Williams M 21:25
Jonathan Reiss M 21:27
Anonymous Participant F 22:08
Fiona Lines F 22:21
Rebecca Kuruvilla F 22:58
Shana Griffiths F 23:35
Zina Jones F 24:15:00
Edgar Griffith M 24:53:00
Darnell Wynn F 25:12:00
Shahrzad Murray F 25:13:00
Mayberline Black F 25:29:00
Ian Carruthers M 25:55:00
Anonymous Participant F 25:58:00
Anonymous Participant M 26:33:00
Khamla White F 26:45:00
Chantelle Berkeley F 27:34:00
Alshia Lugo F 27:41:00
Flora Goodall F 27:44:00
Nicole Miller F 28:19:00
Edwina Arorash F 28:44:00
Suzanne Rose F 29:16:00
Takiyah Tucker F 29:31:00
Florence Sharpe-Trott F 29:58:00
Melissa Haynes F 30:05:00
Nicola Parker F 30:28:00
Roslyn Francis F 31:08:00
David Rogers M 31:08:00
Chiara Nannini F 31:15:00
Bongani Ndlovu M 31:36:00
Morrisa Rogers F 31:42:00
Esther Young F 31:47:00
Gavin Simmons M 32:07:00
Karen Simmons F 32:07:00
Kristi Graber F 32:12:00
Jennifer Mangino F 32:48:00
Gina Coddington F 32:50:00
Kim Hudson F 33:30:00
Sharmaine Spenser F 34:02:00
Sarah Cain F 34:23:00
Melissa Boivin F 34:23:00
Zeudi Hinds F 34:27:00
Julie Butler F 34:28:00
Rachael Barritt F 34:28:00
Genevieve Robert F 34:35:00
Timae Flood F 34:57:00
Jenny Purvey F 34:57:00
Ruby Dill F 35:19:00
Tina Burns F 35:38:00
Zahid Ahmed M 37:10:00
Elizabeth O'Mahoney F 37:36:00
Rosanna Harris F 38:17:00
Joanne Smith F 38:34:00
Roxanne Pearman F 38:41:00
Lacey Fraser F 39:31:00
Jamie Zebedee F 39:53:00
Leonette Georges F 40:45:00
Angela Bean F 40:53:00
Andrea Ratteray F 41:18:00
Latisha Lister-Burgess F 41:40:00
Victoria Fiddick F 41:46:00
Marie Laurence Bousoula F 41:46:00
Kevonne Haynes F 42:23:00
Erica Bean F 43:32:00
Chez Pearman F 43:52:00
Jamie Carmichael M 45:53:00
Latanya Carmichael F 45:53:00
Lisa Talbot F 46:21:00
Sally Sewell F 47:42:00
Kim Spencer F 47:42:00
Dezane Lathan F 54:43:00
Paul Blackbourn M 54:44:00
Read More About