PechaKucha Bermuda is hosting its 11th edition from 6pm until 9pm on Thursday, May 7th at the Vasco da Gama Club in Hamilton.
"At a time when email, Facebook and Twitter seemingly reduce the need for face-to-face encounters, a PechaKucha Bermuda Night forces us out of the house/office and into a social space for stimulation and interaction," a spokesperson said.
"There will be 7 speakers, including a life coach writer, teacher, doctors and others, presenting their out-of-the-box creative ideas on any topic of their choice for everyone to enjoy, think about, laugh at and, maybe, be inspired by.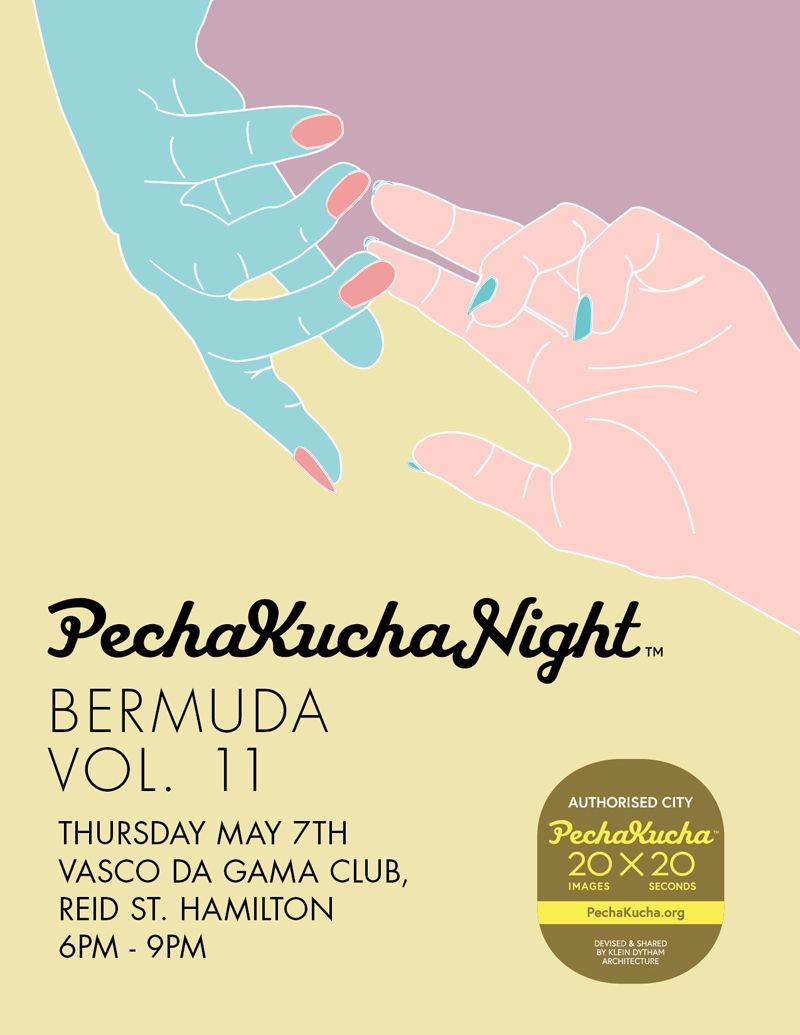 "PKNs were started by a pair of Tokyo-based architects who tackled this problem: How do you get a bunch of visual visionaries — many of them isolated, introverted, self-employed people who tend to hunch all day behind their computers — out into meet space, communicating, drinking, networking? The solution: Give them a format and a chance to talk about their current interests and listen to others doing the same.
"The format is called a 20×20, where 20 images are projected on a screen, each for 20 seconds, while a presenter talks along with the images. The presentation is automated, with no pausing or going back, meaning that it is concise and rapid.
"This PechaKucha Bermuda eleventh edition line includes; Michael Bradshaw, Nicola Arnold, Meredith Andrews, Makeem Haz Bartley, Meredith Ebbin, Jessica Lightbourne and Matthiew Arnold. The organisers Nicky Gurret, Aideen Ratteray Pryse and Najib Chentouf have seen the practice presentations and unanimously agree that this group of presenters are the most prepared with a variety of topics that will interest all.
"Refreshments and snacks will be available for purchase. Entry is free but donations will be gratefully accepted. For more information please visit Pechakucha Bermuda's Facebook page or contact Nicky Gurret at gurret@northrock.bm."
Read More About
Category: All, Entertainment