Artemis Racing became the first America's Cup challenger to launch its AC45 development catamaran in Bermuda this week.
The Swedish team's wing-sail foiling AC45 Turbo began sea trials in the Great Sound on Tuesday [May 12] after being launched from its new temporary base at the Royal Naval Dockyard.
The first two days of sailing provided a real insight into what the team can expect ahead of America's Cup World Series Bermuda this October, and the finals of the 35th America's Cup in 2017.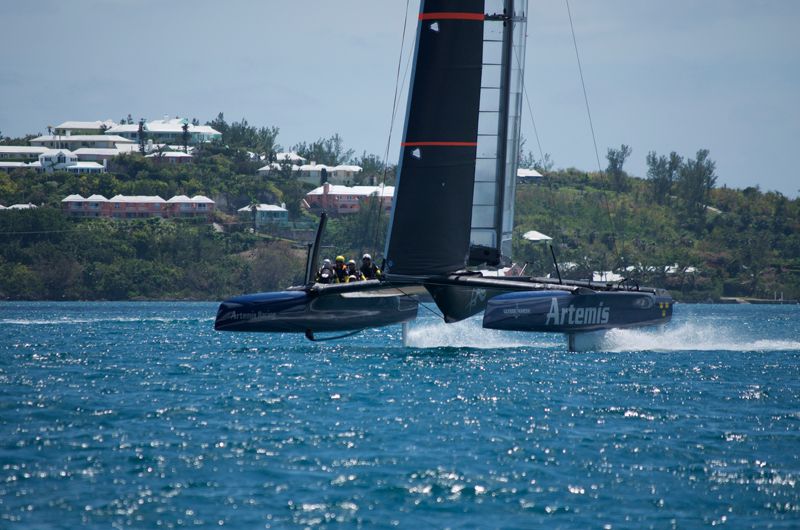 Helmsman Nathan Outteridge commented, "We're really excited to be the first challenger out on the Bermudan waters on the AC45. There have been a number of critics of the Bermuda venue, but foiling around in 10 knots of breeze here, in flat turquoise water is pretty sweet.
"These boats are just awesome to sail, but unfortunately you do have to come back in, I'm sure we would have been happy to out there for another three hours. We're really looking forward to getting back out there again".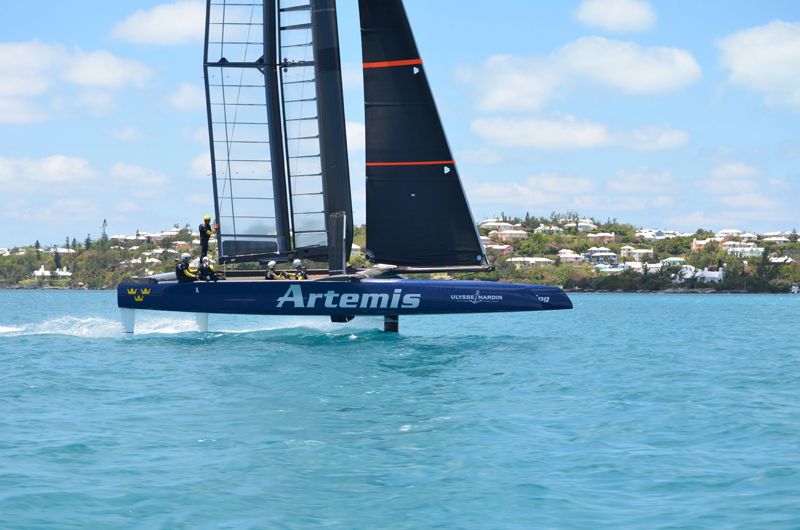 Team Manager Iain Percy said "We were really just out there exploring the course on day one and checking the equipment after it's journey from San Francisco. Over the last few days we've learnt that it is a tricky venue, it's really shifty and gusty, and further to that, it's tight.
"You need to understand the charts, where the rocks are, where you can and can't go. There will be lots of tacks and gybes, the crew will be working incredible hard getting the boat through the transitions. It's certainly going to be a sailors race, which will be great for everyone watching and certainly plays to our strengths".
After two weeks of sailing Phantoms, Moths and A-cats the team's tent arrived on Tuesday and was up in time for delivery of their most valuable asset on Friday [May 15]. Artemis Racing's shore crew worked tirelessly through the weekend to get the boat together and ready for sailing.
After the mandatory system checks the team were soon flying round the Great Sound, travelling to the boundaries of the course, managing to get a solid four hours under their belt on day one.
Commenting on the swell of local support and interest, Percy said, "We have been overwhelmed by the warm reception from the people of Bermuda. You can already feel the excitement on the island and we're still over two years away from the main event."

Read More About