On Monday, Artemis Racing team  sailed its new America's Cup Class yacht, Magic Blue, for the first time.
Skipper, Nathan Outteridge, was excited to get her out on the water, saying: "Everyone's always pretty excited when we get a new toy, and I'm no different.
"We had to treat the boat very gently to begin with, but as soon as we were allowed, we began to push her a little harder.
"From the first take off the boat felt great, the guys who designed and engineered her have done a great job".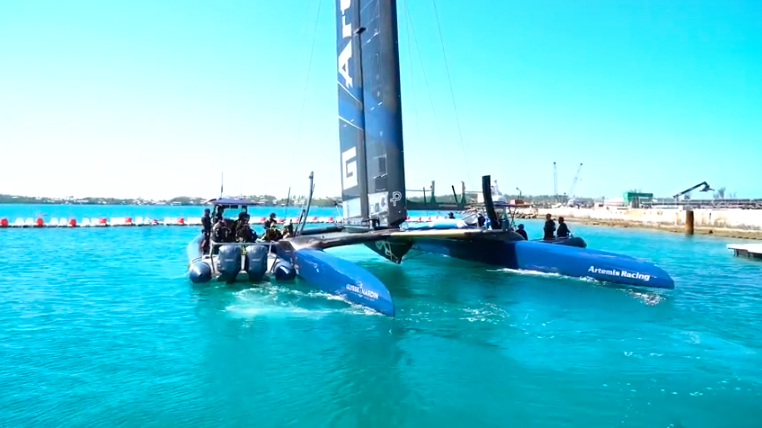 Dave Endean, COO, commented on the importance of those first few hours on the water, saying: "There's been much preparation ahead of Magic Blue's first day of sailing.
"We have a lot of sensors on board, and we have to check that the installations and calibrations are correct and completely accurate. They provide us with critical information regarding the loads and functionality of the onboard systems.
"Once they were calibrated and checked, the first stage of sailing was to get out there and slowly ease into loading the boat, in a very controlled manner.
"After that initial hour, we came back in to analyze the sensor data, make sure there were no surprises, and verify that all the work we've put in leading up to that day was accurate.
"First sails can be difficult, but I'm happy to say that we had a really good day. In the second three hour session, we began to push the boat a little harder, hitting over 40 knots in 10-12 knots of breeze. The results and data were extremely positive, so everyone's happy".
The team will soon continue its two boat match racing programme against T2, the team's second AC45 Turbo development boat, with Francesco Bruni at the helm.

Read More About