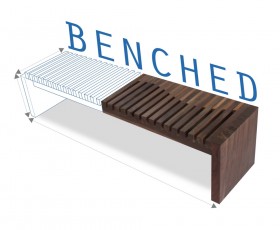 The Institute of Bermuda Architects [IBA], along with co-sponsors, Construction Association of Bermuda [CAOB] today [June 17] announce the launch of "Benched", a design-build competition aimed at students in both high school and university.
Following several successful student and professional design competitions, 'Benched' marks the first design-build competition to be held by IBA.
The competition will see designers, builders and students teaming together to design and create a bench, with the winning entry to be exhibited in an outdoor location in Hamilton.
It is free and open to students interested in architecture, art, construction, engineering, graphic design, interior design or landscape architecture.
All teams must consist of at least one student, one design professional and one builder. At least one team member must be a member of the IBA or CAOB. Students who want to enter but do not have a team can call the IBA for help in forming a team or by the end of the registration period will be assigned to a team.
The criteria for the bench is as follows: must be weather-resistant for outdoor exhibition, must accommodate two to four people and must be moveable but able to be fixed in place.
The use of recycled materials is encouraged, but any material or combination of materials can be used. Entries will be on display for a public viewing and members of the public will be asked to vote on entries.
Krystal Rodrigues, President, IBA, says: "'Benched' offers a unique opportunity for students to work with professionals and see their designs become a reality. We encourage any student who is interested in design or construction to enter and look forward to seeing what the teams create."
Registration forms are available on www.bermudaslate.com and are due on June 26. Design boards must be submitted by July 10 and finished benches are due on July 24.
Krystal Rodrigues; Che Caines, Leader of IBA Student Association; and Charles Dunstan, President of CAOB will judge the submissions. Fifty percent of the points will come from the professional judges and 50 percent will come from members of the public.
For more information or to join a team, email krodrigues@bwarch.bm or call 232-6563. A list of IBA member firms can be found here and a list of CAOB member firms can be found here.
Read More About