[Updating: Police said victim has "life-threatening injuries" and said two men have been arrested in connection]
At sometime around 10.30am this morning [June 18] there was an incident in the west end which resulted in a man being injured, with unofficial reports suggesting the man may have been stabbed.
The police are on scene in the area. Further details are limited at this time, however we will update as able.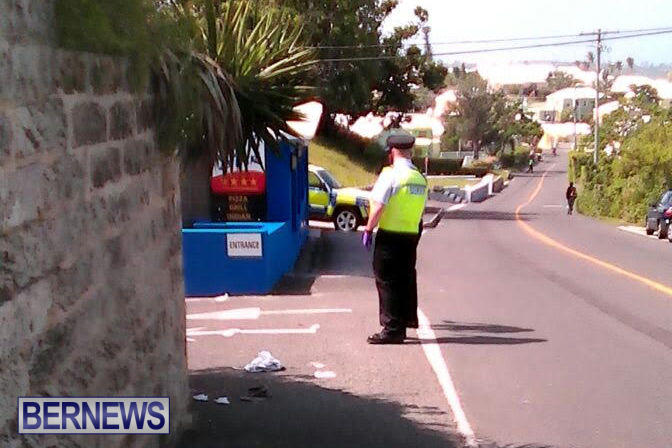 Update: 11.08am: Police confirmed there has been a "major incident" in Sandys, and said they will provide more information shortly.
Update 11.31am: A police spokesperson said, "At 10.25am, police responded to a report of a serious incident that took place on Main Road in Somerset, just outside of Four Star Pizza.
"It appears that a male came on foot and collapsed in the area, bleeding profusely from his neck. As a result, that male has been taken to the hospital, where he is being treated for life-threatening injuries.
"Forensic officers, along with officers from the CID, are now on scene, and traffic is being diverted on Soundview Road while the scene is being processed.
"Police are presently trying to identify the origins of the assault. They are appealing for anyone who may have seen anything in the area to contact police on 295-0011 or the confidential crime-stoppers hotline number on 800 8477."
Update 1.37pm: A police spokesperson said, "Police responded to a report of an incident that took place at 10:25am today, Thursday, June 18th in Sandys parish.
"Details are sketchy but it was reported that a man appeared on Somerset Road in Sandys parish in the vicinity of Four Star Pizza with lacerations to his neck. He was taken to the hospital for treatment of apparently life threatening injuries and an investigation has commenced.
"Any witnesses or persons with information regarding the origin of this incident or the identity of the perpetrator should contact the main police telephone number 295-0011 or the independent and confidential Crime Stoppers hotline 800-8477 at the earliest opportunity."
Update 6.07pm: A police spokesperson said, "At last check earlier this afternoon this morning's serious assault victim, believed to be a 50 year old Sandys parish man, was warded in the hospital's Intensive Care Unit.
"Two men were subsequently arrested in connection with the incident, which occurred around 10:25am Thursday, and the investigation continues.
"Detectives are still encouraging witnesses or persons with relevant information regarding this matter to contact the Criminal Investigations Department on the main police telephone number 295-0011 or the independent and confidential Crime Stoppers hotline 800-8477 at the earliest opportunity."
Read More About