A replica of America, the namesake yacht of the America's Cup, is getting set to tour the east coast next year, including a stop in Bermuda during the event itself.
The tour is being undertaken by Troy Sears of Next Level Sailing, who is currently touring the west coast, including stops in yacht clubs in California, Oregon, Washington and British Columbia.
The event's first race was organised by the Royal Yacht Squadron in 1851 and the prize was a silver Cup that was valued at 100 pounds sterling. The race was won by a syndicate from the New York Yacht Club.
The trophy was renamed the America's Cup after the winning yacht and was donated to the New York Yacht Club under the terms of the Deed of Gift, which made the Cup available for perpetual international competition.
Photo courtesy of NextLevelSailing.com: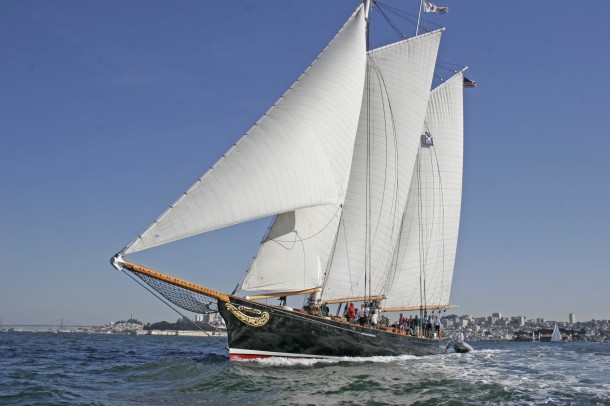 An article in the Washington Post says, "Sears said he's wanted to do the tour since 2010, when Oracle Team USA won the oldest trophy in international sports. After successfully defending the trophy on San Francisco Bay with a stirring comeback against Emirates Team New Zealand in 2013, Oracle decided to stage the next defense in Bermuda.
"Sears said no topic is off-limits during presentations to yacht clubs, including why Bermuda was chosen over San Diego to host the racing in 2017. He'll tour the East Coast next year and will have his schooner in Bermuda during the America's Cup."
The Next Level Sailing website says, "In 2003, long-time San Diego Yacht Club member, Troy Sears and his business partners purchased two International America's Cup Class [IACC] racing yachts from legendary America's Cup Skipper, Dennis Conner.
"In 2006, Next Level Sailing acquired the historic, 139-foot yacht America, and added her to the fleet."

Read More About