News that Bermuda's Royal Palms has been ranked the #1 hotel in the world by Expedia, BHCS renewed its $10,000 sponsorship of PHC, teenage videographer Allison Seymour created a new cliff jumping video, Riann Ming was awarded the Brown Scholarship, and Sun Life Financial promoted Bermudian Trenton Fubler were all some of the positive news stories from the past week.
On a sporting note, boxer Laila Ali praised Bermuda, the Bermuda U17 Women's National Team opened its World Cup Qualifiers with a convincing victory, Hulk Hogan wished the Bermuda rugby squad good luck at the U19 Championships in Orlando, Reggie Lambe scored in a Mansfield Town win, Bermuda football coach Andrew Bascome was named as a hero by 10-year-old Steven Manderson, Flora Duffy won yet another race overseas, and Bermuda's medal-winning Sanshou athletes returned home.
We also posted various community photo galleries, including coverage of the Berkeley class of 1985 reunion, Bermuda's Brazilian Football School's Canada tour, the PLP Sandys Branches holding a clean-up day, the Lionfish fishing tournament, Cup Match Extravaganza, and hundreds of images from the Bermuda Fashion Festival's Evolution Fashion Retail Show.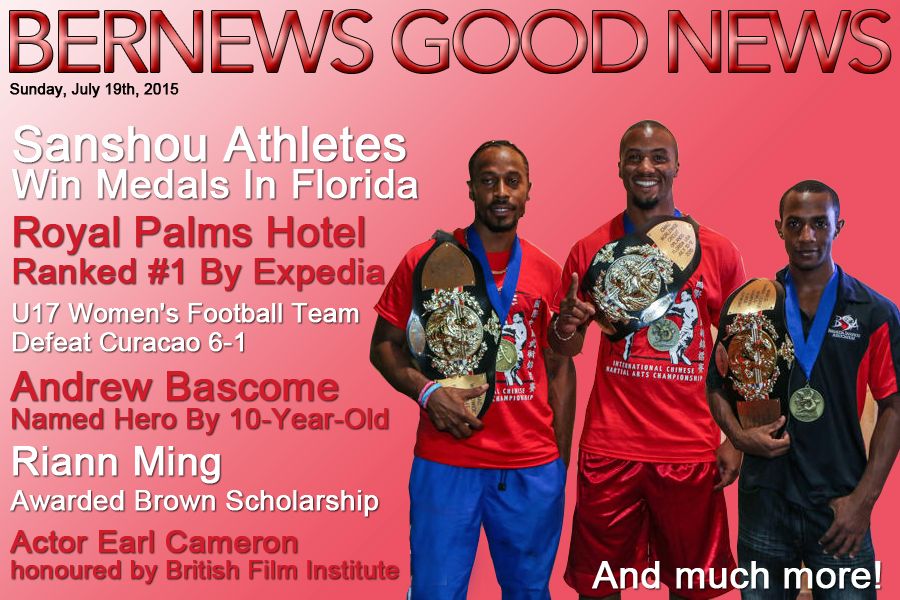 In an effort to highlight some of positive news happening in our community, we supplement our standard morning and evening email newsletters with a special Sunday "Good News" email newsletter edition, which strictly focuses on the positive news from the past week.
You can sign up to have the free newsletter delivered via email here, and/or access the links below. In addition, for those who like positive news, please feel free to visit our sister site ForeverBermuda.com, which seeks to showcase the best of Bermuda as well as provide information and listings for visitor related services.
Links to some of the 'good news' from the past week are below:
Read More About