The Bermuda Rugby men's U19 squad depart tomorrow to compete in the 2015 U19 Championships in Orlando.
After winning promotion last year to the top tier of the U19 division Coach Christopher Stafford has been preparing the squad for the challenge ahead, saying: "We've been working hard as group for quite some time and off the back of a strong domestic schools season with the Ariel Re High School League and with a number of players having been apart of the U17 squad who played in the UK in March this year we're excited to get over to Orland to play."
Coach Chris Stafford with Calum Maule, Chakote Wainwright-Basden, Laurent Wellman and Rory Crofts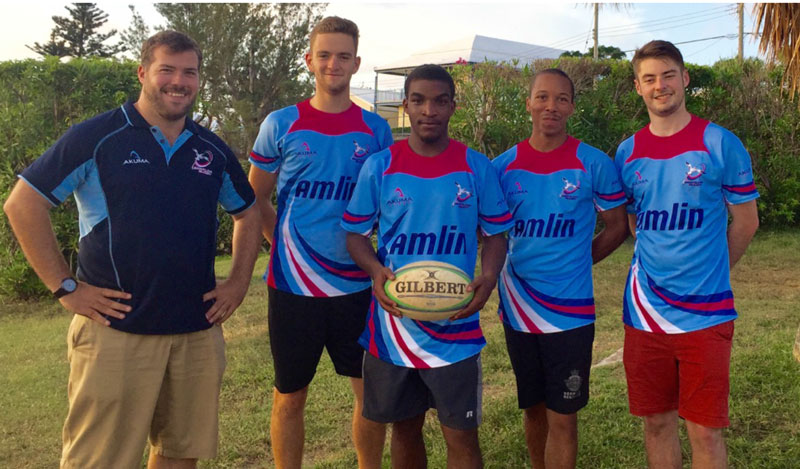 Bermuda entered this year's tournament as number 6 seed [out of 8] and have tough first game against host country USA South A.
"We're under no illusion that it's going to be a tough a tournament [in the Florida heat] against strong countries who are hungry for success but so are we. It should make for a great tournament for our players," Coach Chris Stafford added.
"We'd also really like to thank Amlin once again for their generous support as lead sponsor for the team and also for everyone locally who has helped to support us with our fundraising events in the lead up to this tour".
Match Schedule
Sat July 11th :
Match 1: QF1 Mexico V USA South B
Match 2: QF2 B TCI v Barbados
Sun July 12th :
Match 3: QF3 Bermuda v USA South A
Match 4: QF4 T&T v Cayman
Tue July 14th :
Match 5: Winner QF1 v Winner QF4 [Cup SF 1]
Match 6: Winner QF2 v Winner QF3 [Cup SF2]
Wed July 15th :
Match 7: Loser QF1 v Loser QF4 [Plate SF 1]
Match 8: Loser QF2 v Loser QF3 [Plate SF2]
Fri July 17th :
Match 9: Loser Match 7 v Loser Match 8
Match 10: Winner Match 7 v Winner Match 8 [Plate Final]
Sat July 18th :
Match 11: Loser Match 5 v Loser Match 6 [Cup 3rd / 4th Play off]
Match 12: Winner Match 5 v Winner Match 6 [Cup Final]
Below is the traveling squad
Anthony Sousa [Cedarbridge Academy]
Nick Da Costa [Saltus]
Grenville Lines [Overseas]
Jahniko Francis [Berkeley Institute]
Azzi Mayes [Bermuda Institute]
Kelin Williams [Home School]
Mikai Johnston [Bermuda Institute]
Payton Iris [Cedarbridge Academy]
Cedric Ennis [Cedarbridge Academy]
Milvin DeRosa [Berkeley Institute]
Calum Maule [Saltus]
Daneko Cann-Hayward [Berkeley Institute]
Jordan DeShields [Warwick Academy]
Asante Darrell [Berkeley Institute]
Chakote Wainwright [Home School]
Mikle Dill [Cedarbridge Academy]
Nick Pell [Saltus]
Dennis Walker [Home School]
Jahmali Bridgewater [Berkeley Institute]
Rory Crofts [University of Queensland]
Aldon Campbell [BHS]
Laurent Wellman [Berkeley Institute]
Camren Caines [Bermuda Institute]
Raguel Dill [Berkeley Institute]
Head Coach Christopher Stafford
Assistant Coach Lawrence Bird
Assistant Coach Patrick Calow
Team Manager David Crofts

Read More About