On Monday July 20th, the Bermuda Foundation For Insurance Studies [BFIS] awarded $445,000 in scholarship funding to 12 students focused on careers in Bermuda's insurance sector.
This brings the total amount of funding that the Foundation has given out since it was formed in 1996 to $5.5 million – all funded by the insurance industry.
BFIS 2015 Scholarship Recipients, left to right: Tracey DeSouza [Insurance & RM/Georgia State], Asha Ford [Insurance & RM and Finance/Georgia State in Bermuda], Melanie Mendonca [Business/West of England], Sarah Pedro [Business/Acadia], Tare Brangman [Insurance & RM/Georgia State], Reem Bushara [Economics/McGill], Zachary Friesen [Business/Trinity Western], Daniel Oatley [Economics/Warwick], Chris Alexander [Accounting/Bristol], Julia Judd [Accounting/Northeastern], Conor Lohan [Business/McGill], Kyle Harvey [Accounting/Wilfrid Laurier], Dominick Wright [Insurance & RM/Wharton]. [Missing] Laura Burns [LPC/BPP Law School]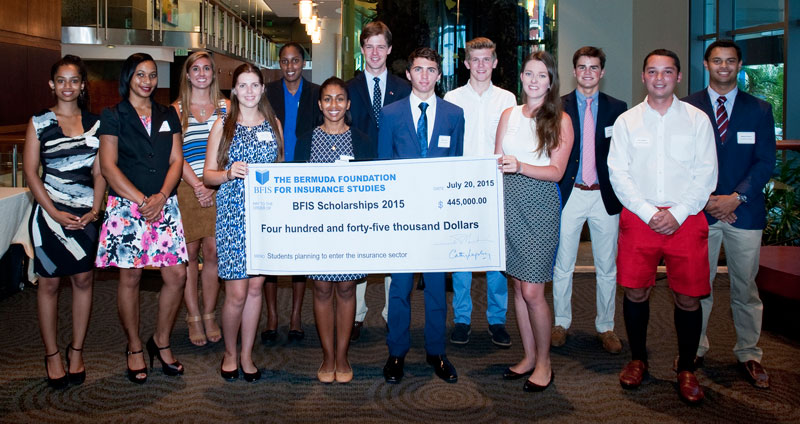 The total number of current BFIS scholars receiving further education awards is now 26, which translates into a funding commitment of $708,000.
Over 70 guests attended the BFIS Scholarship Awards Reception, sponsored by XL Catlin at O'Hara House, including the Acting Governor, the Ministers for Education, Economic Development and Home Affairs, BFIS donors and awardees' parents. Welcoming the scholars into the 'BFIS family' were BFIS Trustees, Advisory Trustees, Committee members, BFIS alumni and current scholars.
Since its inception in 1996, 155 students have now received scholarship funding from BFIS and 114 graduates are working in the insurance sector or related industries today. A further 9 former BFIS scholars are continuing their education under other funding.
This year also saw 10 BFIS scholars graduate – 8 of who are already employed in the insurance sector [two in New York] and the remaining two seeking employment in the London market.
At the Awards Presentation, Gail Martin, Chairman of the BFIS Board of Trustees, said "The Foundation was created with the purpose of providing financial support and guidance for Bermudian students, so that they might have the opportunity to obtain the appropriate education and training in order to pursue an insurance-related career.
"A large component of this is achieved through annually awarding scholarships to outstanding students pursuing studies relevant to the insurance industry."
Presenting the awards was Stephen Jones, BFIS Trustee, member of the Scholarship Committee and himself a former BFIS scholar, who pointed out that Scholarship Committee members are almost all former BFIS Scholars themselves.
Mr Jones went on to say, "Out of the 98 applications, 30 students were selected for interview. The committee was looking for students of outstanding ability, not only extremely sound academically, but also well rounded, excelling in their individual pastimes of sports, music and philanthropic endeavours, who could clearly demonstrate their interest in a career in the insurance sector." He noted that financial need was taken into consideration after all other criteria had been met.
Closing the awards part of the evening, BFIS alumn Gino Smith gave excellent and well-received comments directed at the new scholars. He welcomed them into the 'BFIS family' which he said had been a constant support in his career since 1996 when he was one of the very first students to receive a BFIS scholarship and when he also met his mentor, Brian Hall, BFIS' founding chairman.
Read More About