On Wednesday July 12, the Bermuda Foundation For Insurance Studies [BFIS] awarded $345,000 in scholarship funding to 14 students focused on careers in Bermuda's insurance sector.
The total number of current BFIS scholars now at college is 32, which is a funding commitment of $453,500. BFIS has now assisted 179 students with educational funding and has 142 scholarship alumni employed in the insurance sector and related industries.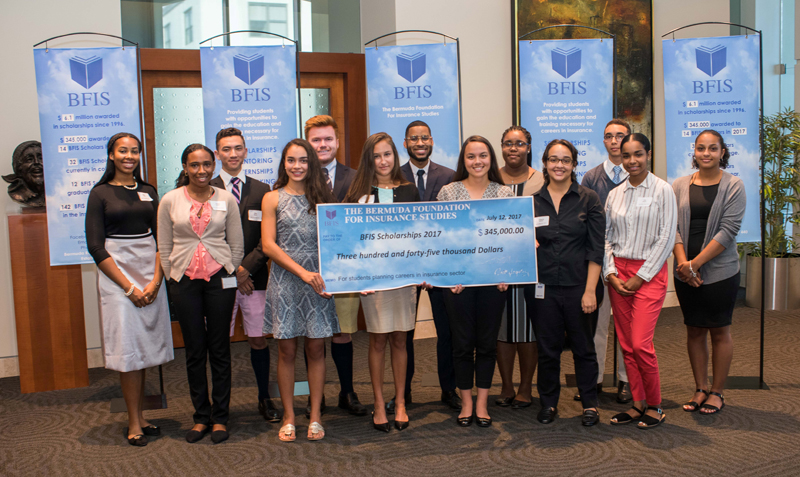 The BFIS Scholarship Awards Reception, attended by over 90 guests including BFIS donors, trustees, committee members, mentors, alumni, the new awardees and their parents, was held at O'Hara House, courtesy of XL Catlin.
Opening the reception, Gail Martin, Chairman of the BFIS Board of Trustees, said "The Foundation was created with the purpose of providing financial support and guidance for Bermudian students, so that they might have the opportunity to obtain the appropriate education and training in order to pursue an insurance‐related career. A large component of this is achieved through annually awarding scholarships to outstanding students pursuing studies relevant to the insurance industry."
This year also saw 12 BFIS scholars graduate ‐ 6 already employed in the insurance sector in Bermuda, 2 currently in interviews, 1 employed in insurance in London, 1 in Boston and 2 returning to college to gain their Masters degrees.
Dr. Duranda Greene, Chairman of the BFIS Scholarship Committee in presenting the BFIS awards noted that, "We received 91 applications of which 50 were freshmen, 18 sophomores, 21 juniors and 2 seniors and from those selected 30 students for interview. The committee looks for students of outstanding ability, not only extremely sound academically, but also well rounded, excelling in their individual pastimes of sports, music and philanthropic endeavours, who could clearly articulate their interest in a career in the insurance sector."
The awarding of the BFIS Scholarships was followed by the BFIS 'named' scholarships awards which BFIS administers on behalf of specific donor companies.
BFIS Overseas Scholarships were awarded to: Freshmen Mikayla DeSliva Jacome studying Accounting at Western University; Ashley Farrington studying Business at McGill University and Brianna Mendes studying Economics at McGill University; Juniors Anna Harrington studying Financial Economics at Western University and Clevon Cunningham studying Actuarial Science at St. John's University; Seniors Ari Minors studying Business at Mount Saint Vincent University and James Spence studying Actuarial Science [MORSE] at Warwick University. The BFIS Bermuda College Scholarship was awarded to Nathanael Fubler in the second year of his Associate Degree in Actuarial Science at Bermuda College.
The BFIS Alumni Association Scholarship, funded with money raised by BFIS Alumni mostly though their annual Denim Day, was awarded to Precious Smith entering her senior year; the BFIS Colonial International Group Scholarship was awarded to Tamara Jackson, a Junior studying accounting at Mount Saint Vincent University; the Hannover Re Public Schools Scholarship was awarded to Imani Smith, a Junior studying Actuarial Science at Kingston University; the BFIS Marsh & McLennan Scholarship was awarded to Freshman Kyla Lowe studying Business at University of Sussex; the MS Amlin Scholarship was awarded to Freshman Alex Mason studying Business at University of Toronto; the Validus Scholarship was awarded to Zoe Wright, a Junior studying Economics at Bristol University.
Closing the awards ceremony were BFIS Scholar Ciara Burrows and BFIS Graduate 2017 Tyler Kerr who each talked to the new scholars about taking full advantage of the many benefits of being part of the 'BFIS family' that go far beyond scholarship funding.
Ciara made three points advising the students to "1. Stay relevant by keeping in touch with BFIS through the year. 2. You get out what you put in so take advantage of the networking events. 3. Remember that BFIS will be with you from start to finish through college, summer jobs, internships, mentoring and full‐time employment." Tyler underscored Ciara's points, noting that "BFIS doesn't just give out scholarships. The money is only a small part of what BFIS has to offer and students need to take advantage of all the programmes and career support that BFIS provides."

Read More About