The Bermuda Motorcycle Racing Club [BMRC] has opened registration for the first Wheelie Wars stunt competition to be held Sunday, July 19, 2015 at the Motorsports Park in Southside, St. David's.
There is a total of $1000 in prize money up for grabs, with the first to fifth place finishers set to be awarded.
"Competitors of all ages who knows how to wheelie a motorcycle can enter on any bike, however competitors under the age of 18 will need parental consent," the BMRC said.
"The Wheelie Wars stunt competition will have cash prizes, trophies, and bragging rights up for grabs. Interested competitors can visit www.BMRC.bm to pre-register, or register at the track by 10:00AM on Sunday, July 19, 2015.
"The idea for this competition came out of the BMRC's longstanding initiative to 'keep it on the track'," says BMRC PR Officer Antoine Richards.
"Showing off on motorcycles, whether popping or pack racing, is a part of Bermudian culture that has been maligned for a long time – and for good reason.
"But now we have a purpose-built facility that takes these activities away from public roads and allows the participants to safely explore the limits of their talents and their machines. Wheelie Wars is open to anyone so that we can find the undisputed Wheelie King/Queen of Bermuda!"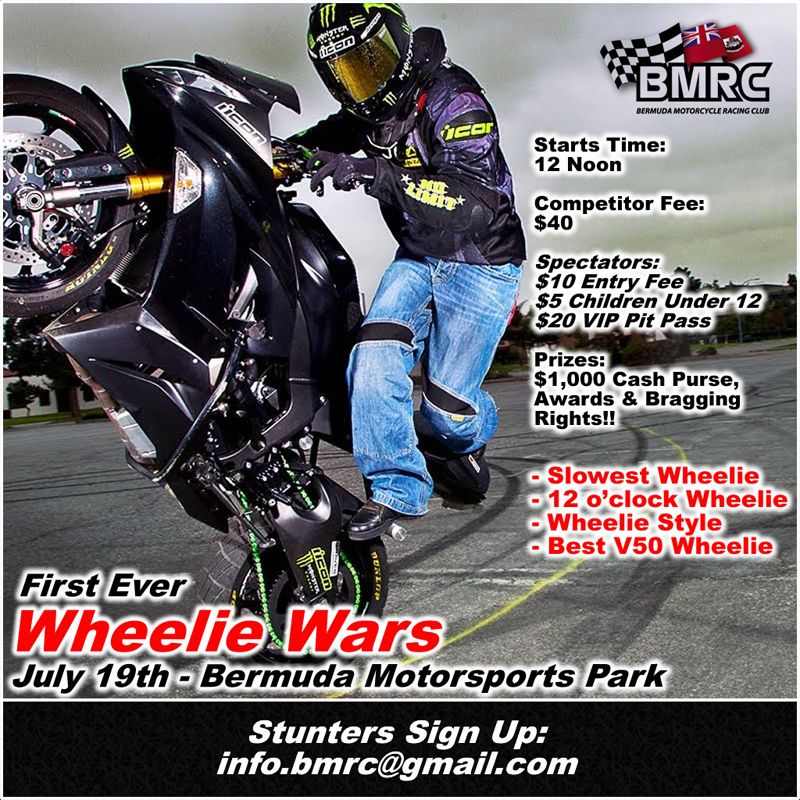 Wheelie Wars will put the competitors through a three stage competition:
Stage 1 – Slowest Wheelie
Stage 2 – 12 o'clock Wheelie
Stage 3 – Wheelie Style
The top half of the field will progress through each successive stage. There will be a separate contest specifically for the Best 'V50' Wheelie.

The Judging
Wheelie Style and Best 'V50' Wheelie will be judged by a panel of guest judges consisting of Vibe 103's DJ Rusty G, Bermemes Dejon Simmons, and international footballer John Barry Nusum. There will also be an award for the day's Crash King!
Safety
Competitors will be required to wear a level of safety protection including elbow pads, knees pads and back protectors; the BMRC will have an assortment on hand for competitors on the day. St. John's Ambulance will also be present for medical support.
Practice And The Event
The BMRC will allow registered competitors to practice for free at the Motorsports Park on Saturday, July 18, 2015 from 12:00PM onwards. Wheelie Wars will take place on Sunday, July 19, 2015 starting at 1:00PM sharp!
Gates Open: 9:00AM
Registration: 9:00AM until 10:00AM
Mandatory Competitor Meeting: 10:30AM
Practice: 11:00 AM until 12:30PM.
Start Time: 1:00PM.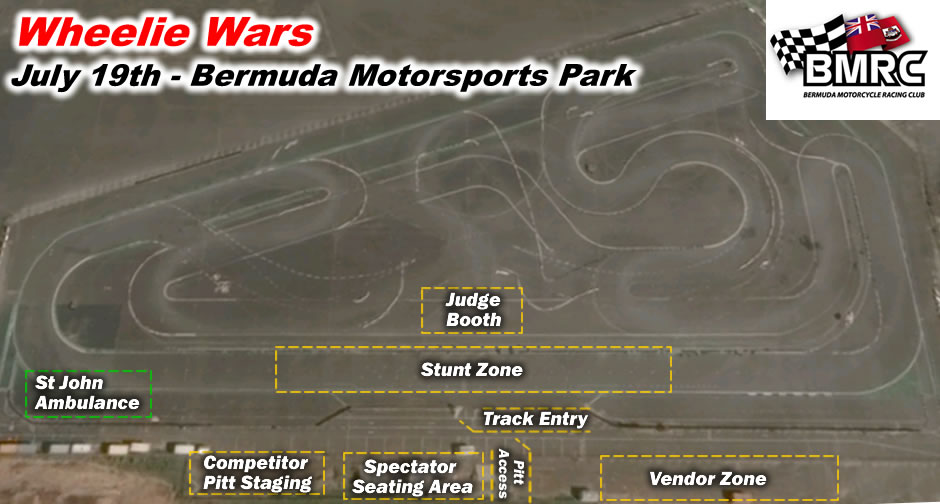 Registration Fees
Wheelie Wars: $40
Best V50 Wheelie: $25
"We have listened to feedback from various motorcycle enthusiasts about events they would love to see hosted on our Island. We are excited to present our first ever Wheelie Wars competition to the local community" said the BMRC President, Cyril Whitter III.

Read More About
Category: All, Entertainment, Sports