The Coveteur has featured Bermudian fashion expert Shiona Turini in a piece called 'How to do Bermuda the Shiona Turini Way,' calling Bermuda "maybe the most beautiful place we've ever seen."
The story says, "How did you spend the long weekend? Hamptons? If you're globetrotting fashion consultant and Cov-alum Shiona Turini, to get the most of your summer Friday, you flew to Bermuda, maybe the most beautiful place we've ever seen pictures of, which also happens to be her home, uh, island.
"And while Turini regularly makes the flight to visit friends and family and to work on her fashion mentorship program there—an initiative where New York editors help six local designers to produce a collection—for the long weekend it was all about proverbial fun in the sun.
"Let's just say that if you're planning on making the trip, we fully endorse doing Bermuda the Shiona Turini way."
Photo of Ms Turini via The Coveteur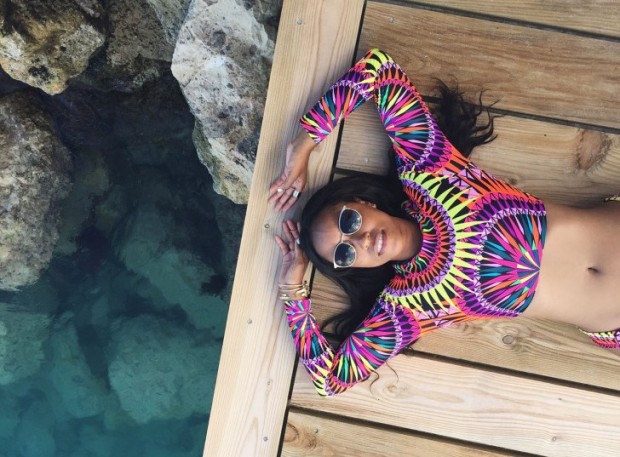 In the story, Ms. Turini says, "I like to take the Thursday night flight so that I can wake up on the island, but it's only an hour and 50 minute flight from New York, so even the early morning Friday flight gives you a full day at the beach.
"Most Bermudians learn how to swim by being thrown off of a boat by their parents. We're all raised on the water and grow up on boats. I don't know what I would do if I couldn't charter a boat in Bermuda.
"When I pack for Bermuda my biggest challenge is editing the swimsuits. I'll pack a million and I'm not afraid of a midday swimsuit change. I definitely own more swimsuits than t-shirts, and they fill three drawers in my apartment. Repeating swimsuits in Bermuda is like a crime."
Ms. Turini has been making a considerable name for herself in the international fashion industry. She has worked for both Cosmopolitan and Teen Vogue magazines, has attended New York and Paris Fashion Weeks, has been featured by the New York Times, Huffington Post and Elle Online, and recently modeled Christian Louboutin's new line of classic heels.
Ms. Turini, who is based in New York, was recently on island to oversee several projects that she's working on with local organisations, including the City of Hamilton's City Fashion Festival.

Read More About
Category: All, Entertainment, Style & Beauty