Calling her a "street style star," international fashion magazine Elle has featured Bermuda's Shiona Turini as she shares details about her daily life during New York Fashion Week [NYFW].
The Hampton University graduate has been a style connoisseur since her days in high school, and has gone on to become one of the island's most successful fashionistas.
She has worked for both Teen Vogue and Cosmopolitan magazines, and the Huffington Post called her "one of very few black women who has reached the upper echelons of several magazine mastheads."
The Elle article says, "Today, stylist, consultant, and street style star Shiona Turini shares a day in the life amidst the utter chaos of New York Fashion Week."
Elle tweeted the story to their 3 million+ followers: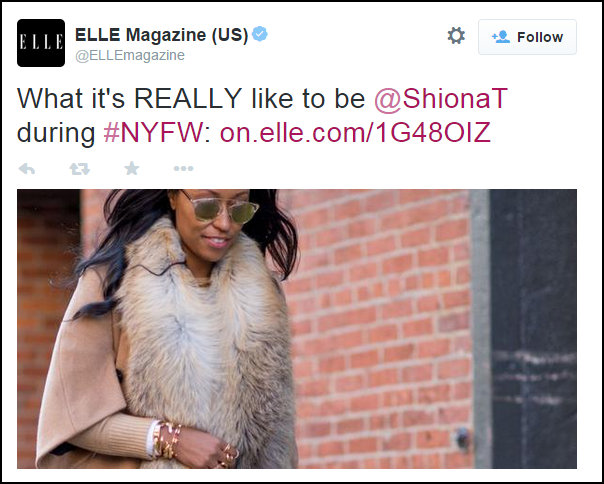 "For breakfast I didn't have much time, so I sliced some avocado and made coffee in my French press."
"I had an early lunch meeting with jewelry designer Kristen Gipson Crawley of Kdia Jewelry at The Mercer hotel. It was freezing out so we ordered the soup, which was amazing.
"When I got home, my boyfriend cooked dinner: Gluten-free pasta made with Amy's organic tomato sauce and ground turkey. I want to say I helped, but really I just watched. We added sautéed onion, chopped garlic, balsamic vinegar, a splash of lemon, and various seasonings."
Amazon featured 25 of Ms. Turini's fashion product picks: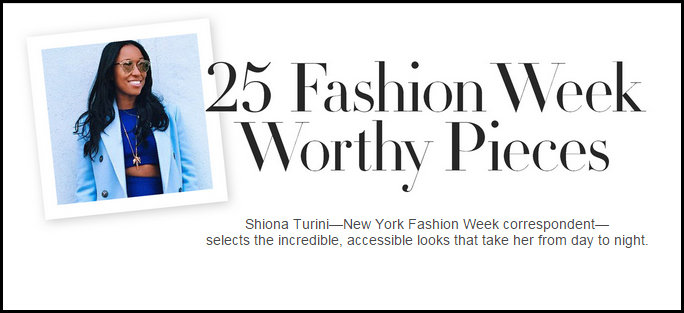 In recognition of NYFW, Ms. Turini also found her way into the New York Times, with the publication featuring a photo of her in its coverage of the event, while her personal shopping tastes were used to highlight products by online retail giant Amazon.
The Bermuda Fashion Festival recently announced that Ms. Turini will be one of their partners for the 2015 festival, which is set to be held from July 6 – 11.
Ms. Turini isn't the first island personality to make their way into Elle's pages , with the magazine previously featuring current Miss Bermuda Lillian Lightbourne in their June 2012 edition, as well as in a multi-page spread in the July 2013 South African edition of Elle.

Read More About
Category: All, Entertainment, News, Style & Beauty