[Written by Don Burgess]
When you're holding the Cup, you can be afforded many luxuries. So Somerset's confidence heading into the 2015 Cup Match is understandable.
They have only made two changes in three years to a team that looks set to dominate the Classic for the better part of this decade.
By comparison, St. George's made six changes this year alone as they try to find the winning formula to wrest the Cup back to the East End.
And Mother Nature is always looming, ready to play favorites by dropping rain to scatter the players and edge the odds towards Somerset.
But Somerset captain Jekon Edness wants the matter settled on Wellington Oval on Thursday and Friday, and firmly believes his squad can get the job done.
Mr Edness holds the Cup after Somerset's victory last year: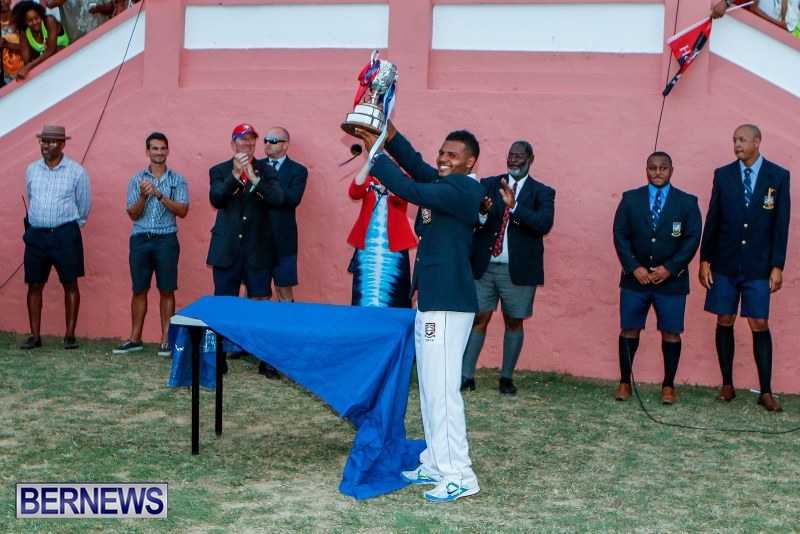 "We're going to take the game to St. George's," Edness said. "We're going to try to put on a good performance and win the Cup down there."
He added by only making two changes in three years — swapping in and out Deunte Darrell and Stephen Outerbridge — shows the stability of the Somerset squad.
"We don't want to change too much with this team. I know what I'm getting when we pick the team. It's been pretty much the same team for the past three years. We're going to get guys who are going to work hard and guys who are going to put their best foot forward for Somerset."
It's not that Somerset has kept the Cup the past three years, it's the way they've done it in dominating fashion. Without the weather playing a role, they would have had at least one more win rather than a draw.
Is it too early to start comparing them to the 'Bummy' Symonds teams of the 1960s?
Edness thinks that talk is premature and they have to concentrate on this match first rather than a decade of greatness.
"People are going to have their opinions on us. It's flattering to be compared to players of that stature, but we're just trying to do what we have to do for this Cup Match.
"In the end, if we get compared to those great teams, so be it, but it's not something that we go on the field looking to emulate. Our job is to put on a good performance on the field and win."
He said the weather conditions have not been the best in the lead up to this year's Classic and could lead to a slow wicket.
"We can't control the weather and both teams have to play under the same conditions. They are going into the game just as blind as us."
In one sense, one of the advantages St. George's had for this match, playing at Wellington Oval was supposed to the final Trial, but "They didn't even get a chance to play on the wicket. We're both going in blind, but at the end of the day both teams have to play on the wicket and whatever the weather conditions may be."
Even though Somerset is holding the Cup, he would rather win than get to keep it because of a rain-affected draw.
"Everyone wants a result, especially when you're in the ascendency — you want to continue going forward. It's a downer when it rains because the players have worked hard all season to perform and play well and win Cup Match. We can't control the rain, but we want to win it outright."
Edness said that while St. George's has a solid team, Somerset has "to play to the best of our abilities and stick to the basics" and it should win again.
He urges fans — Somerset or St. George's — to "come down to Wellington Oval and witness some entertaining cricket with some good festivities. Come enjoy the banter because it only happens once a year. Come enjoy some good cricket and, hopefully, a Somerset victory."

Read More About