[Written by Don Burgess]
Somerset Cup Match captain is quite confident of not only retaining the trophy for the Red and Blue but winning it outright on home ground.
Somerset had dominated the Classic since 2012 when they won the Cup with an emphatic 10-wicket victory.
Since that win, they have mainly stayed with the same squad from year to year, and the 2018 edition is no different as Somerset have just two changes in their team as colts Steven Bremar Jr and Kwasi James will do their best to try to keep the Cup in the west end.
They replace Derrick Brangman, who is serving a one-year suspension by the Bermuda Cricket Board, and Kamau Leverock who is in the UK plying his trade for Nottinghamshire.
The Jordan DeSilva led squad will once again have Terryn Fray by his side as vice-captain. He also has a wide variety of options as Dion Stovell, Malachi Jones, Jekon Edness, Tre Manders, Stephen Outerbridge, Chris Douglas, and Greg Maybury are all back.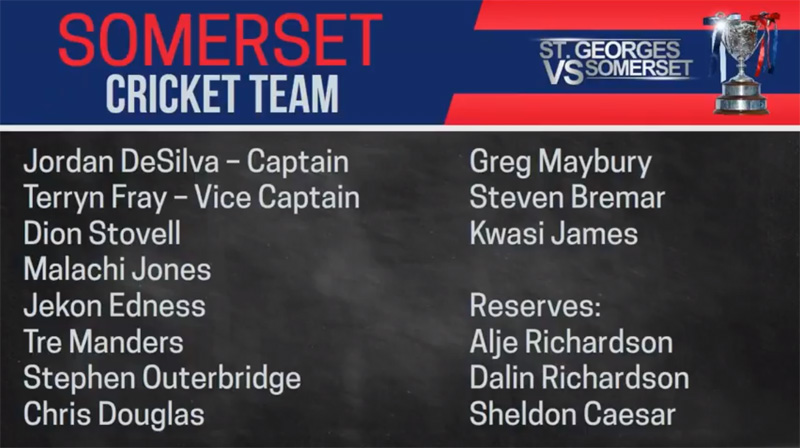 DeSilva said Bremar and James were already being considered as additions to the team before the loss of Brangman and Leverock.
"Both of them were part of the group that we were looking at," DeSilva told Bernews. "We had five players we were looking at the two spots. We felt the way that Steven had batted on Saturday and the way that Kwasi bowled on a very flat track. He was able to get some lateral movement and bowled well. We thought that was the best way to replace the players we lost."
DeSilva said it's always great when Somerset can have a player of Leverock's calibre in the squad as he is an exceptional cricketer.
"It isn't a disadvantage, but Kamau brought something people hadn't seen in a long time with his pace and his aggressive batting, but we picked two guys who can make it for that," DeSilva said. "
We lost two all-rounders in Derrick and Kamau, and we picked two guys who can make it for that as even Steven can bowl if I call on him. It isn't a disadvantage losing Kamau even though he is quality, but at the end of the day, we have to take what we got. We picked two very good replacements."
Somerset has held the Cup since 2012. If they hold onto it, one would have to go all the way back to 1931 through 1937 to the last time Somerset has had the bragging rights for seven years. The captain would love to do it in style with a victory.
DeSilva said, "The game plan will be what it's always been. We know we have to take 20 wickets to win the game. We've picked a team that will make it very difficult for St George's to bowl us out twice.
"The first goal is that we don't lose it, but that's part of the reason we picked Steven and Kwasi because we picked two batsmen. That does deplete our bowlers and the less bowlers we have, the harder it is to bowl them out twice which is why we felt with the two bowlers we were losing we had to replace one of them with another bowler."
He said they now have that extra option in James.
The Somerset captain says just because St George's has four colts in its squad, that does not necessarily make his job easier.
"We've seen colts in the past come out and perform," DeSilva said. "Our last colt was Greg Maybury, and he got MVP as a colt in 2012, so we know that a colt doesn't necessarily mean he's going to be a weak link.
"We did notice that out of their four bowlers, three of them are colts so that's something we will look to take advantage of. But that doesn't necessarily mean they will be a weak link because we don't expect the two colts on our team to do anything less than perform. If we expect that from ours, we have to expect that theirs are just as capable."
DeSilva said that Somerset's strength is in its batting. He pointed out that he has yet to bat twice in a Cup Match as the club is so strong from 1 to 11.
"This is going to make it extremely difficult for them to bowl us out once, let alone twice. Greg Maybury is our number 11 since he joined the team and this season he's scored 100 and another 90-odd during the league season."
He added: "We're looking to win the match whether the wicket is conducive for batting or bowling. We're looking to take advantage of the conditions whatever they may be come Thursday morning.

Read More About