Michael Way is the 2015 Coral Beach Club Men's Tennis Champion after defeating Andy Bray in an epic three set battle Sunday.
Way won the first set 6-2, but Bray fought back to take the second set 6-4, setting up a crucial final set in the grueling three hour match. Way emerged triumphant 7-5 to win the title, which is named after his late brother Billy Way.
Michael Way [centre] holds the Men's Singles Champions trophy after defeating Andy Bray [right] in a three-hour final. The trophy was presented by William Boyle (left) who won the club championship many times. Also present were Patrick Singleton [second left] and tournament referee Robin Blackburne.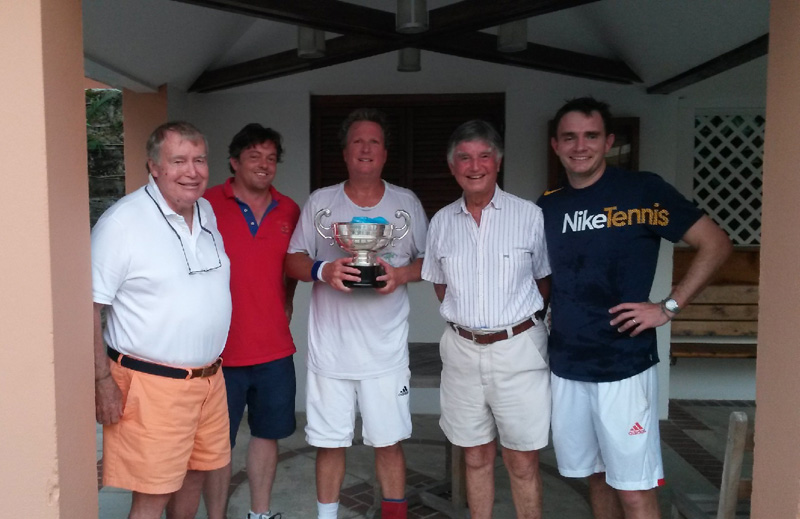 In the women's singles final, Kim Burns came back from one set down to overcome Victoria Stephens 4-6 6-0 6-1.
In the men's doubles final, it was a family affair as Billy Boyle and Courtland Boyle defeated Charlie Boyle and Tanner Boyle in three sets – 6-1, 4-6, 6-3. Charlie and Tanner Boyle had a long day on the courts as they defeated Nick Lines and William Way 6-1 6-2 in the semi-final earlier in the day.
Also helping the Boyle family celebrate was Heidi Boyle, who teamed up with Leslie Flynn to defeat No. 2 seed Lee Petty and Kelly Way 6-4 6-4 in the women's doubles.

Read More About