Marsh and Guy Carpenter have made two $2,500 donations to The Duke of Edinburgh's International Award [DofE] and to Community Driven Development [CDD].
The DofE is a non-formal education programme for ages 14 to 25 years that provides opportunities for young people to develop essential life skills. Participants engage in activities involving personal skills, physical fitness and community service, as well as training for and completion of a group adventurous journey that takes place locally or overseas.
The programme is available free of charge throughout Bermuda, which is a special offering as most National Award Operators around the world charge a registration and participation fee. The Marsh and Guy Carpenter donation will enhance the Award's programme development and expansion initiatives, and helps to offset participation costs, which average $400 per person on an annual basis.
Marsh and Guy Carpenter also donated to the Community Driven Development registered charity, a women's support programme established in 2013 by The Bermuda Government's Department of Human Affairs in conjunction with the Bermuda Women's Council to assist unemployed and underemployed women to transition off financial assistance.
The programme will soon also include men and focuses on building the skills, abilities and competencies to help individuals who are in need of financial assistance to become self-sufficient. The Marsh and Guy Carpenter donation will help to fund the CDD's efforts to help educate the participants in the programme.
Left to right: Traci Burgess, David Ezekiel and Deborah Blakeney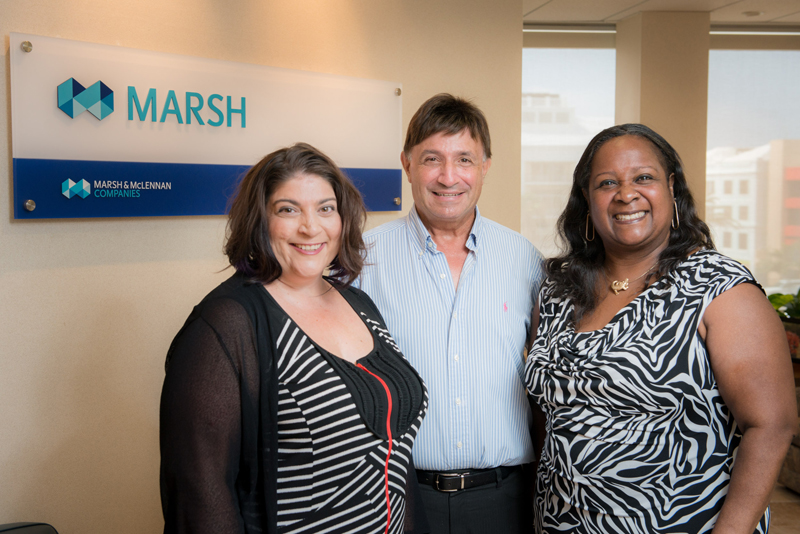 "We thank Marsh and Guy Carpenter for their partnership with The Duke of Edinburgh's International Award Bermuda," said Traci Burgess, National Director for DofE Bermuda.
"Thanks to our corporate and private donors, Bermuda's young people have free access to this challenging, rewarding and transformational personal development programme. More than ten thousand Bermudians and residents over the past five decades have experienced the life-changing benefits of participating in DofE.
"Our programme is far reaching and impacts the entire community as DofE participants engage with and provide voluntary services to other non-profit organisations and agencies island-wide. DofE is an empowering programme that offers unique opportunities and we encourage everyone to take the challenge and get involved!"
"Thank you to Marsh and Guy Carpenter for their support of the Community Driven Development programme," said Deborah Blakeney, Executive Director, CDD Bermuda.
"Our mission is to ensure that those persons in our community who depend on financial assistance have the support they need to become self-sufficient and independent. In order to do so, we rely on the financial support of donors like Marsh and Guy Carpenter."
"The Duke of Edinburgh's International Award Bermuda and The Community Driven Development programme are two valuable organisations on the Island that seek to empower our youth and adults, respectively," said David Ezekiel, Country Corporate Officer of Marsh & McLennan Companies, Bermuda and Chairman of Marsh's Bermuda Charity Committee.
"We commend the organisations for the work they do in supporting our community."
Visit www.theaward.bm or call 441-537-4868 for additional participation and volunteer information regarding The Duke of Edinburgh's International Award Bermuda. To learn more about the CDD programme, call 441-543-2731.

Read More About