Governor John Rankin, patron for the Duke of Edinburgh's International Award, has made a personal donation to jump start the Award's annual tag day to be held on Friday, June 23, at various locations throughout Hamilton.
A spokesperson said, "The annual event is aimed to increase awareness for the Award programme, success of our participants and raise some much needed funds to continue offering this transformational programme at no cost to participants from a diverse cross-section of Bermuda.
"We thank everyone in advance for your contributions and participation in the Award's fundraising efforts."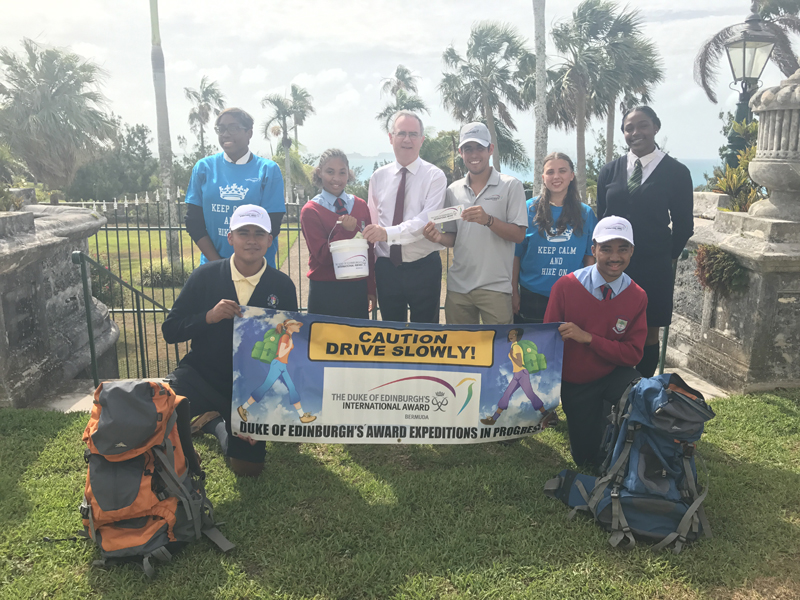 T"he Bermuda Award has mentored more than 10,000 locals over the past five decades. Our tiny island presently boasts the highest penetration rate for participation in the International Award, with more than 10% of Bermuda's eligible population between the ages of 14 to 25 being actively engaged in the programme on an annual basis.
"Last year, 622 young people from both public senior schools and most private schools across the island took up the challenge of participating in the Award. Participation is fun, exciting, challenging and rewarding, but most of all, completion of the Award in its entirety is life changing.
"The Award's impact on participants and the community includes increased self-confidence; enhanced communication and problem solving skills; improved academic attainment and employability; improved health and well-being; social inclusion and increased participation in civic life; care for the environment; gender equality; reduction and prevention of violence; and reduced reoffending [recidivism] rates.
"2017 marks the Award's 50th anniversary in Bermuda and a number of celebratory events are planned for early March, including high profile guests representing the International Award.
"Get involved and make a difference. Contact the Award Office for additional details on programmes, volunteering, Alumni events and 50th anniversary celebrations on 537.4868 or director@theaward.bm."
Read More About
Category: All