The 2015 Parapan Am Games are set to get underway in Toronto this evening [Aug 7] and Bermuda will be represented by three athletes in two sports, with Jessica Lewis, Steve Wilson, and Yushae DeSilva-Andrade set to join athletes from 28 other nations.
Ms. DeSilva-Andrade will be the official flag bearer for Bermuda at the opening ceremony this evening, which she said was "absolutely awesome" as it is an "honour to represent my country and carry the flag."
The 2015 Parapan Am Games will be the fifth edition of the Games and will feature 1,608 athletes from 28 countries competing in 15 different sports and will run from this evening to Saturday, August 15. All sports featured in the Games will be qualifiers for the Rio 2016 Paralympic Games.
Jessica Lewis and Yushae Desilva-Andrade at the Paralympic Petal ceremony held earlier this year: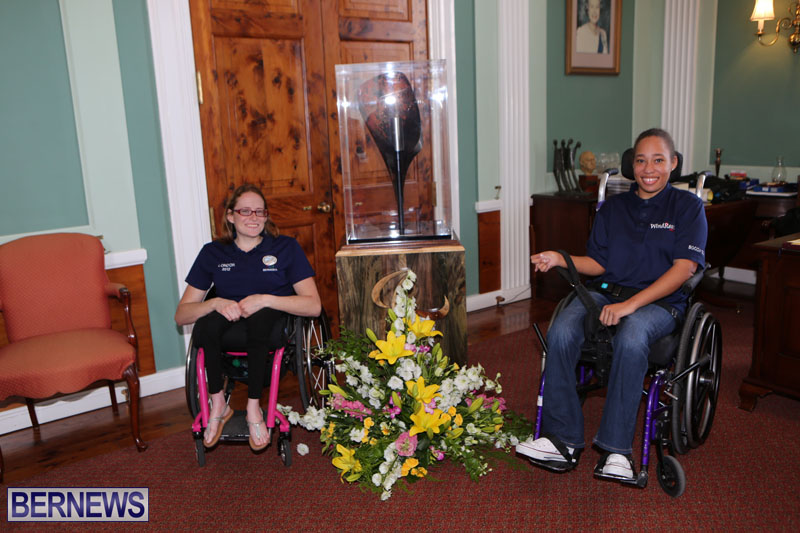 "Steve and Yushae will compete in the sport of boccia which is a precision ball sport related to bowls and petanque. It was originally designed to be played by people with cerebral palsy, but now includes athletes with other severe disabilities affecting motor skills. Jessica will compete in wheelchair track racing in the T53 classification in the 100m, 400m and 800m races," a spokesperson said.
"This will be Jessica's second time representing the island at the Parapan Am Games and she goes into her races with a strong chance of medalling for Bermuda. All three athletes got their start locally at WindReach Bermuda where they were first introduced to the world of adaptive sport.
"The Opening Ceremony for the Games will air on CBC [CableVision channel 138 and WoW channel 201] on August 7 at 8.00pm Bermuda time. Boccia will take place on Sunday, August 9 & Monday, August 10 with the medal rounds taking place on Tuesday, August 11.
"Yushae will compete in the BC2 classification and Steve will compete in the BC4 classification with both athletes starting Round 1 on August 9 at 11.00am for Yushae and 1.15pm for Steve.
"Jessica will compete in wheelchair track racing on Wednesday, August 12 at 8.25pm in the 100m semi-final and again at 8.45pm in the 400m semi-final, on Thursday, August 13 at 4.20pm in the 800m final, and again at 7.25pm in the 100m final and on Friday, August 14 at 8.30pm in the 400m final.
"The Closing Ceremony of the Games will be aired on August 15 at 11.00pm Bermuda time, also on CBC. People interested in following all three athletes can watch the Parapan Am Games live on CBC daily at 4pm to 6pm or their hour long recap at 9pm and 12.30am Bermuda time, except on Sunday, August 9 when it will air at 6pm.
"In addition to the CBC broadcasts, the Bermuda Paralympic Association will also be providing live updates of all Bermudian athletes via their Facebook page and Boccia Bermuda will be providing live updates for all athletes on their Twitter and their website as well as their Facebook page."
Update: Bermuda's team at the opening ceremony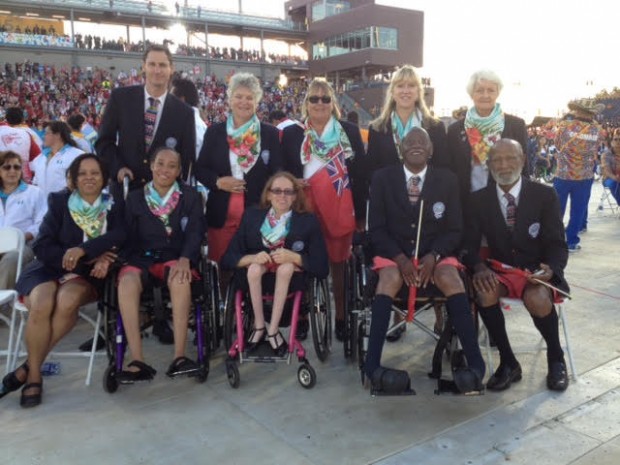 Read More About