The Bermuda Economic Development Corporation [BEDC] is extending a clarion call for Bermuda's innovative entrepreneurs to submit ideas for the Future Agro Challenge 2015.
"The Future Agro Challenge [FAC], founded and run by Industry Disruptors – Game Changers, is the Global Championship in Agro Innovation for a healthier tomorrow," the BEDC said.
"It is the world championship for innovators, visionaries, and leaders who change our everyday life through farm, food, and lifestyle. FAC provides a platform unifying startups, investors, and other stakeholders. The FAC community focuses global awareness, innovation, and dialogue towards finding solutions for the global challenges ahead.
"This year marks the second year that the event will be featured in Bermuda as a lead up to Global Entrepreneurship Week in November. There is an opportunity for a local entrepreneur to become the Bermuda champion of the Future Agro Challenge. The competition offers a unique opportunity to any notable agri-business idea to scale up and become a successful venture.
"Bermudians Connor Burns and E.J. Burrows of Bermuda Aerial Media [BAM] and its subsidiary company Skymatics were Bermuda's National Winners in 2014 and brought home the top prize for the International Future Agro Challenge at Industry Disruptors 2014 in Athens, Greece, beating out 9 other countries!
"Main categories for the 2015 competition are Evergreen Practices; Nutrition and Health; Agro Logistics; Farmer Incomes; Education; Agro Tourism; Safety & Health; Packaging; and Other.
"If your business idea provides innovation in farming business practices; upgrades education and training; transforms agricultural production into biological solutions; presents alternative uses of natural products; or provides new ways of addressing the importance of living healthy lifestyles, then you should apply.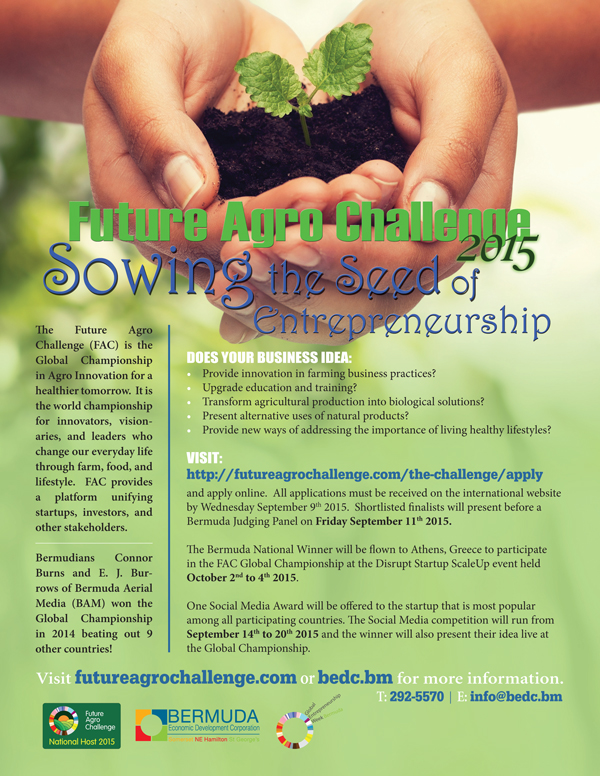 "Interested entrepreneurs should visit here, take the challenge, and apply online. All applications must be received to the international website by Wednesday September 9th 2015. All applications will be forwarded to Bermuda for review. Shortlisted finalists will present before a Bermuda Judging Panel on Friday September 11th 2015.
"The Bermuda National Winner will be selected and the name forwarded to Industry Disruptors – Game Changers [ID-GC] in Greece. The National Winner will be flown to Athens, Greece to participate in the FAC Global Championship at the Disrupt Startup ScaleUp event held during October 2nd to 4th 2015. There, national winners from all participating countries will compete live in front of a judging committee to secure monetary and service prizes.
"One Social Media Award will be offered to the start-up that is most popular among all participating countries. The Social Media competition will run from September 14th to 20th 2015 for all countries and the award winner will present their idea live at the Global Championship along with the other finalists selected by the Global FAC team.
"For more information on this competition, please contact BEDC at info@bedc.bm or 292-5570 or visit www.futureagrochallenge.com or www.bedc.bm The Future Agro Challenge is owned by Industry Disrupters – Game Changers. Find out more about this organisation at www.industrydisruptors.org."
Read More About
Category: All, Environment, News