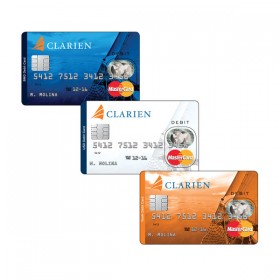 Clarien Bank Limited has launched a new technologically advanced debit card, in partnership with MasterCard.
"All Clarien Bank customers have been automatically upgraded, and the new card has been fully distributed to account holders," the bank said.
"The new card has EMV/chip technology supported by signature for point-of-sale transactions, with added security to the cardholder, as well as the addition of MasterCard PayPass, a contactless 'tap & pay' service.
"This improves the purchase experience for customers at the point-of-sale through increased speed and convenience.
"The new card also has enhanced security features enabling Clarien to monitor, detect and fight fraud on behalf of its customers at every step of the purchasing process.
"Delivered through the new EMV/ chip technology, the card securely stores information on the EMV/chip technology, significantly increasing the difficulty of extracting the bank card's information.
"The new debit card will also allow Clarien's customers access to wider MasterCard services and benefits, including the added protection of MasterCard SecureCode which provides peace of mind when shopping online."
Ian Truran, CEO at Clarien Bank Limited, commented, "Providing clients with the greatest security possible has always been of upmost importance to us. With the pace of life rapidly changing, contactless payments is becoming the new norm and we are pleased to offer our clients the very latest in technology and security, providing continued peace of mind.
"The new enhanced debit card is aligned with our ongoing commitment to providing our clients with best-in-class services, bringing added functionality at no additional cost.
"We're proud to partner with Clarien as we look to innovate in the market with the launch of this new solution. The technology included in the Clarien Debit MasterCard will bring added safety and convenience features, which seek to enhance the customer's experience," added Alfonso Di Lella, Account Manager at MasterCard Latin America.
Clients are advised that all Capital G debit cards will be deactivated, effective Wednesday, September 30 at midnight. All clients who PIN and activate their Clarien debit card by August 31 will be eligible to win an Apple Watch in the "Clarien PIN to Win" contest. Additional details are available at clarienbank.com.
Read More About
Category: All, Business, technology