Keep Bermuda Beautiful today [Aug 11] received a $275 donation from 9 year old Rachael Betschart who raised money for KBB over the Cup Match holiday by collecting almost 250 bottles from the waters.
Her mother D'Arcey Betschart said, "Our friend Alan Marquardt challenged Rachael with collecting bottles while we were on the boat one weekend, to keep her busy. He offered her 10 cents for every bottle she collected. That weekend in a span of an hour she had collected 15 bottles. My husband and I matched that donation."
Rachael spent her holiday weekend diving up bottles from the shallow waters in Mangrove Bay: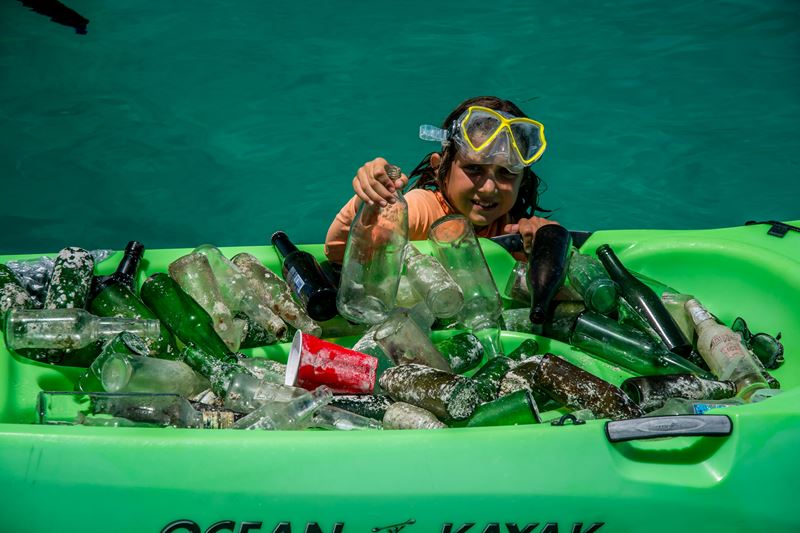 She continued, "So, when we went out on Cup Match weekend up to King's Point, anchored besides a group of friends, she continued that challenge. She realised after the first day when she collected 66 bottles that she could raise a lot of money.
"So, she went from boat to boat in our raft up and asked everyone to match the 10 cents per bottle over the weekend and she said that she wanted to donate it to a charity. After some discussion of the various charities she thought that KBB would be the charity she wanted to donate to since this was a 'clean up'.
"The next day she collected 36 bottles, the following day she collected 103 bottles and the final day she collected 27. In total she collected almost 250 bottles. Rachael raised $275 over the weekend."
Rachael was hunting for bottles underwater but also found a variety of other trash like plastic cups. Some of the bottles were wedged into the sandy bottom while other bottles were broken and had dangerous shards of glass: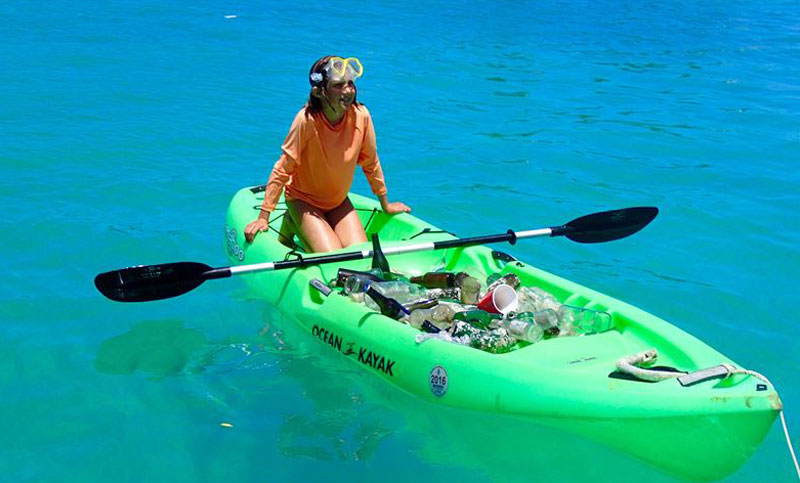 She finished saying, "It was a great opportunity for Rachael to see just how much trash there is in our beautiful waters. Some of the bottles were really hard to see and pull out of the sand. She found a lot of broken bottles, shards of glass, plastic cups and various other pieces of trash as well.
"She then witnessed the Non-Mariners Race on Sunday and understood how easy it is for trash to float away and sink. She spent a good portion of her Sunday collecting trash from that event. It was a good learning experience for her and kept her very busy. She was also really surprised when she found a fully intact half pint marble bottle in 8 feet of water."
Rachael presenting the donation of $275 to KBB's Amy Shillingford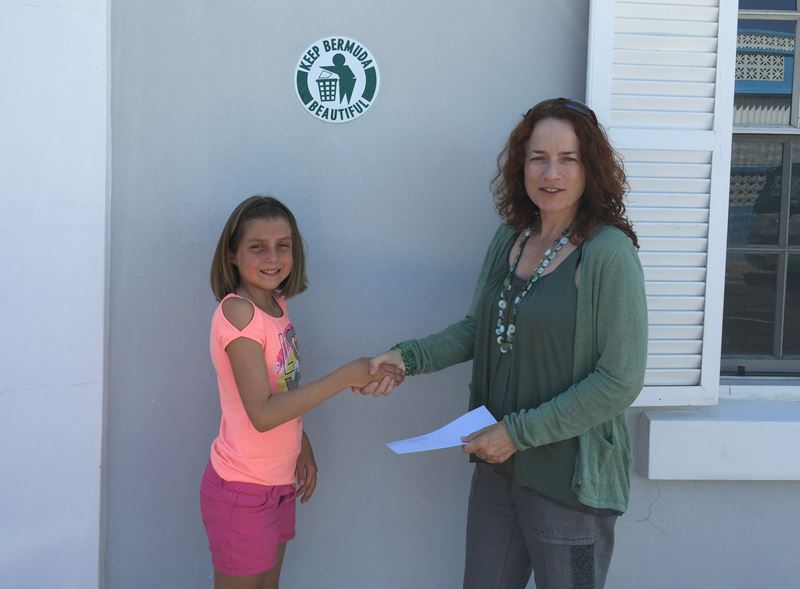 Mrs. Shillingford said, "We are thrilled to accept this donation from you and congratulate you on this wonderful initiative. I have seen a lot of broken glass in this area and nearby at Somerset Long Bay and realize it comes from glass bottles breaking on the rocks. It is becoming more dangerous to walk barefoot."
KBB said they "would like to remind the members of the public when they are out boating and picnicking this summer to be extra vigilant to dispose of their trash responsibly so that it does not end up as litter. Careless littering poses a serious threat to human health and safety as well as causes death to turtles, birds and other wildlife."
Rachael found almost 250 bottles which were a mix of old and new. One was so recent that it had a slice of lemon and a cigarette butt still inside it. 
"In addition to KBB's ongoing cleanups, each September there is the opportunity for our community to make a huge impact by participating in the annual EY Bermuda Coastal Cleanup in support of KBB. When you join the EY event, you will be part of a global event," KBB said.
"Volunteers from more than 100 countries will be spending the morning of Saturday, September 19 picking up trash from the ocean and shoreline for Ocean Conservancy's annual International Coastal Cleanup. To be part of this event, contact Anne Hyde, Executive Director at KBB on 295-5142."
- Photos courtesy of Alan Marquardt & KBB
Read More About
Category: All, Environment, News