As part of her goal to own a dance school, local dance teacher, Nikia Manders, has launched Bermuda Dance Academy with classes beginning September 19, 2015, at The Berkeley Institute.
Currently the Instructional Leader and Dance Teacher at The Berkeley Institute, Ms Manders teaches dance and choreography to S1 – S4 students who perform annually in a Dance Concert, the Bermuda Day Parade, AQA GCSE Dance courses and an International Dance Festival.
Ms Manders, Owner & Head Teacher at Bermuda Dance Academy says; "Dance has made such a positive impact on my life. I'm really looking forward to expanding myself as a teacher and choreographer and embarking on this new challenge, which I hope will inspire others keen to develop in the art.
For this first year, we were able to secure studio space at The Berkeley Institute, however, Bermuda Dance Academy is actively seeking to occupy a space of its own for the 2016/17 school year."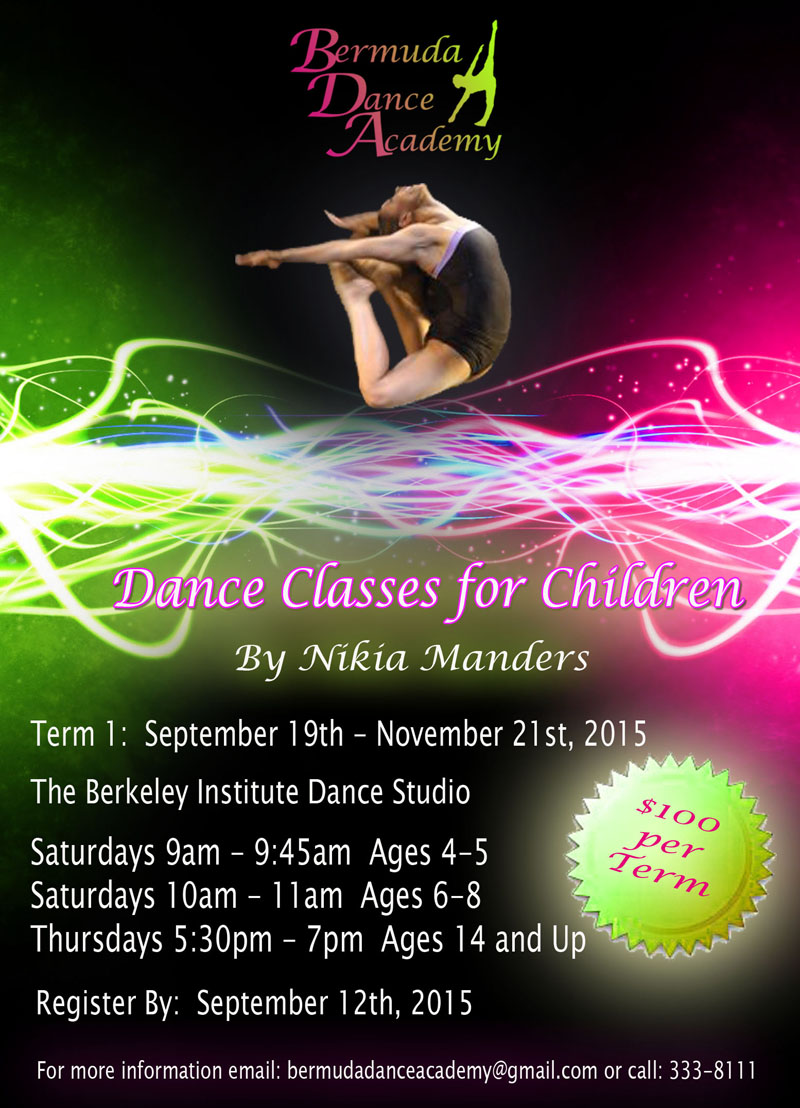 Having begun dance and gymnastics at the age of three at the Jackson's School of Performing Arts and Tumble Tots respectively, Ms Manders went on to obtain a Bachelor of Arts in Dance Performance from the State University of New York at Buffalo and a Master of Arts in Dance Education from New York University, Steinhart School of Culture, Education and Human Development.
In addition to a 7 year teaching career with The Berkeley Institute, Ms Manders has also taught and choreographed in a variety of venues across the island and in the United States, Uganda and Trinidad. Ms Manders has performed locally with Bermuda Civic Ballet, Bermuda Dance Company and Concepts in Motion.
While her international experience has allowed collaboration with choreographers including Milton Myers, Rod Rodgers and Christopher Huggins as well as Celebrity Cruise Line, Milwaukee Dance Connection, Zodiaque Dance Company, Zodiaque Studio Dance Ensemble and Walt Disney Productions.
Ms. Manders adds; "Bermuda Dance Academy aims to cater to and impact a diverse spectrum of the community.
Combination classes will be offered on Saturdays for children ages 3-4 years and 6-8 years, while Thursday evenings have been reserved for students aged 14 through adult. Students can expect to learn dance technique, performance skills and flexibility."
Should you wish to register for classes with the Bermuda Dance Academy or require any further details, simply email bermudadanceacademy@gmail.com or ring 333-8111.

Read More About
Category: All, Business, Entertainment, News