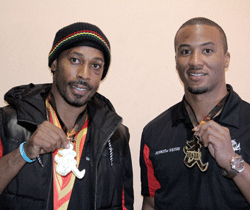 Members of the Bermuda Sanshou Association [BSA] are off to compete in the 2015 International Sanda Cup in Monterrey, Mexico.
Defending champions, Sentwali Woolridge and Reyel Bowen will compete in the 2nd Pan American Sanda Cup this weekend.
Woolridge, who is current Pan American Wushu and Sanda Cup Gold Medalist will be competing in the 75kg weight category, while Reigning Pan American Sanda Cup Gold Medalist Bowen, will be competing in the 85kg division.
They are accompanied by Oscar Lightbourne, who will serve as a judge at the competition and Nolette Tucker as manager and BSA President Garon Wilkinson is the Head Coach.

Read More About