[Updated with videos] Bermuda's Jessica Lewis has just won a bronze medal in the 100m at the World Championships in Qatar today [Oct 24], crossing the line in a time of 17.40 to deliver Bermuda's first ever IPC World Championship medal.
China's Lisha Huang, the world record holder and a five time Paralympic gold medalist, won the gold, while Turkey's Hamide Kurt won the silver.
Screenshot from the broadcast: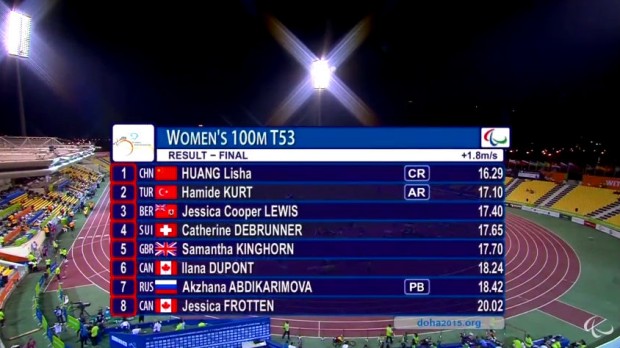 Catherine Debrunner of Switzerland was 4th, Samantha Kinghorn from the UK placed 5th, Ilana Dupont of Canada was 6th, Akzhana Abdikarimova of Russia was 7th and Jessica Frotten of Canada placed 8th.
Being held from 21-31 October on Qatar, the  IPC World Championships features around 1,300 athletes from 90 countries, and Lewis is the sole athlete representing Bermuda. She has already placed 4th in the 200m, and is also set to compete in the 400m and 800m.
The excellent performance by Ms Lewis today follows after her record setting showing at the Parapan Games in August, which saw her win the gold medal in a new Parapan record time, delivering Bermuda's first ever Parapan medal.
Ms Lewis will also be representing Bermuda in the 2016 Rio Paralympics, and judging by her performance today at the World Championships and her record setting showing at the Parapan Games, the 22-year-old Bermudian will be going into the Paralympics as a medal contender.
Update 12.54pm: Video of the race, courtesy of Int'l Paralympic Committee
Update 1.50pm: The medal ceremony just took place, with Ms Lewis receiving her bronze medal, screenshot of the broadcast below.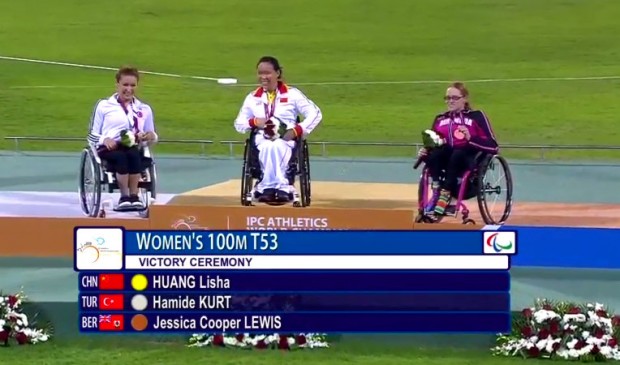 Update 2.27pm: Video, courtesy of the IPC, of the medal ceremony
Read More About