The inaugural Nike Golf PGA Team Championship of Canada will be decided next week in Bermuda when the Mid Ocean Club, plays host to 52 two-person teams of PGA of Canada professionals Oct. 27-29 for a 54-hole national championship that features different team formats for each day—fourball, foursomes and scramble.
"We've been looking forward to this national championship for quite a while now," said PGA of Canada president Constant Priondolo.
"It undoubtedly has the winning recipe for success: a unique format, a phenomenal golf course and excellent support from both PGA of Canada professionals and partners alike."
Teams booked their ticket to Bermuda via PGA of Canada zone qualifiers that were held across the country throughout the summer.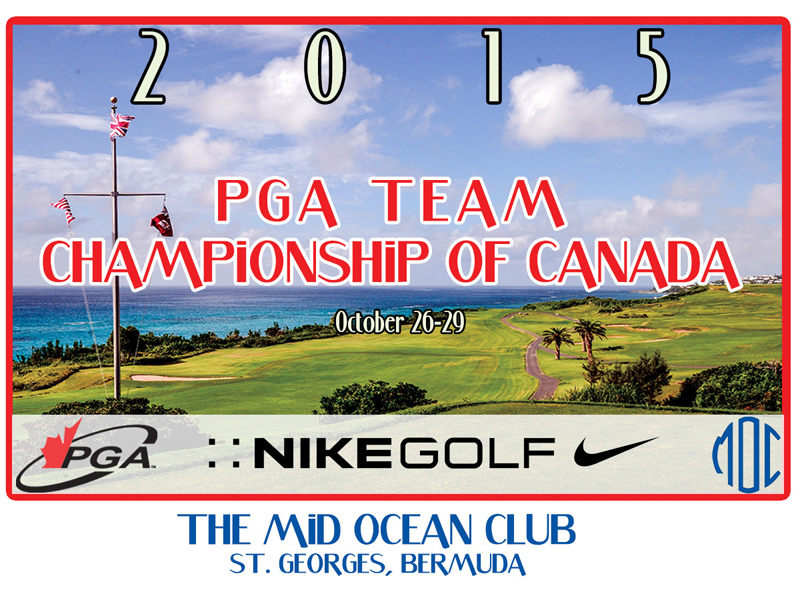 Notable teams set to tee it up at The Mid Ocean Club include:
This year's PGA Championship of Canada winner Danny King and the association's No. 1-ranked player Billy Walsh;
Past PGA Championship of Canada winner Dave Levesque and Marc-Etienne Bussieres, who finished second at this year's PGA Assistants' Championship of Canada and the Canada Cup;
Two-time PGA Assistants' Championship of Canada winner Brian McCann and last year's PGA Club Professional Championship of Canada winner Matt Peavoy:
No. 6-ranked Oliver Tubb and Padraic O'Rourke of British Columbia;
The Manitoba zone's Andrew Steep and Walter Keating Jr.;
Jeff Chambers and Brennan Rumancik of the Saskatchewan Zone
Alberta zone qualifier winners Greg McGarry and Adam Bruce
All nine PGA of Canada zones will be represented in Bermuda. For the full list of teams click here. The winning squad of the Nike Golf PGA Team Championship of Canada will take home $12,000 of the $90,000 purse
"Our vision for this event from its inception was to create the most memorable and unique experience on the PGA of Canada schedule," said Nike Golf Canada's director of marketing Tyler Keenan.
"We are confident our plans for the Nike Golf PGA Team Championship of Canada will deliver just that."
Ranked the 47th best golf course outside of the United States by Golf Digest, The Mid Ocean Club was designed by world-renowned architect Charles Blair Macdonald and first opened for play in 1921.
The club has played host to the PGA Grand Slam of Golf in 2007 and 2008, and has hosted such heads of state as Presidents George H.W. Bush and Dwight Eisenhower; Winston Churchill, The Duke of Windsor; former Canadian Prime Minister Brian Mulroney; as well as baseball icon Babe Ruth.
"The contours of the property are unsurpassed, delightful valleys winding through coral hills from 20 to 70 five feet in height, along the line of play; well wooded with cedars, oleanders, bougainvillea and hibiscus, lending the most fascinating colour scheme to the whole," Macdonald once wrote about his masterpiece, The Mid Ocean Club.
"The contours are inviting to the golf architect to construct unique and scientific putting

Read More About