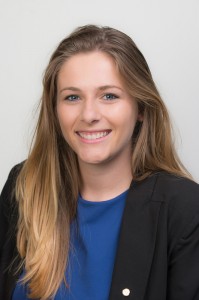 Sun Life Financial International announced that Rochelle Williams is the first Bermudian to be selected for the Rotational Leadership Development Program [RLDP].
The company said, "The program consists of three rotations across functions, including global offices within Sun Life Financial, with an aim to build a pipeline of talent through the development of critical business skills, knowledge of the insurance and financial services industries, and a broad understanding of Sun Life's products, customers and business strategy. Many graduates of the program have developed successful careers at Sun Life Financial.
"Rochelle Williams earned her Bachelor of Commerce, with Honours, from the University College Cork in 2014. During university, she gained business experience with insurance and reinsurance placements.
"She was actively involved in campus activities, including her role as an International Student Ambassador and with the Management and Marketing Society. In her first rotation, Rochelle will be working with the Operations team in Sun Life Financial International's Hamilton office.
"Rochelle was selected for displaying excellence in her previous work experiences and for her strong academic merit. We are pleased to announce that she is our first Rotational Leadership Development Program participant in our Bermuda office" said Andrew A. Darfoor, Senior Vice-President and Chief Executive Officer, Sun Life Financial International.
"The goal of the RLDP in Bermuda is to train the next generation of Bermudian leaders in the insurance and financial services industry. We look forward to great things from Rochelle as she grows in this program and with Sun Life Financial."
Sun Life Financial's presence in Bermuda dates back to1881 and the company established its Bermuda-based business, Sun Life Financial International, in 1996.
Read More About