The Bermuda Rotary Clubs of Pembroke, Hamilton and Sandys have come together to provide the Adult Education School [AES] with nearly $10,000 to be used for security upgrades.
The Adult Education School on Dundonald Street provides young and mature students between the ages of 16 and 60+ with the opportunity to gain their high school equivalency diploma [GED]. In addition, the AES offers a range of programmes that include, but are not limited to, adult literacy support for non-readers and struggling readers, foundational math, and college preparatory classes.
A spokesperson said, "The school recently undertook a security and facilities audit to ensure that they were providing their students and staff with a safe and healthy learning environment."
Joe DaSilveira & Mr. John Kessaram [Pembroke Rotary Club]; Stephen Todd [President of Sandys Rotary Club]; Donna Daniels [Executive Director of AES]; Greg Soares [President of Hamilton Rotary Club]; Chris Williams [President of Pembroke Rotary Club]: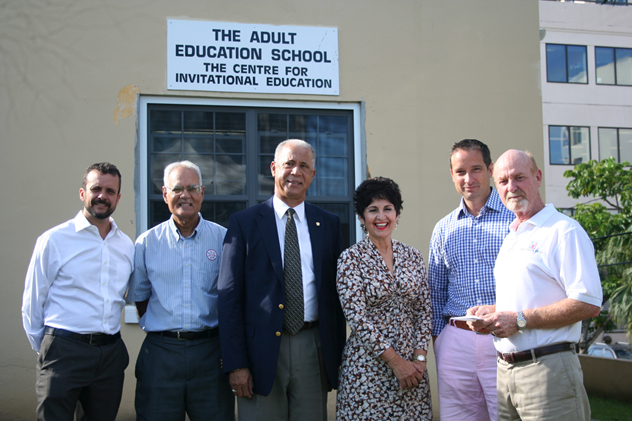 "The audit identified a number of areas of concern that needed to be upgraded. The Executive Director, Ms. Donna Daniels, shared this information with the Rotary Clubs of Bermuda, and the Rotarians pledged their support.
"The school worked with local contractors and suppliers as well as their security provider to make significant improvements to the physical security of the School's buildings and grounds. They replaced internal glass-paned doors with solid core doors to provide better security, and a strobe light system was installed to alert staff to safety issues.
"In addition, the number of panic buttons was increased, and the overall security system was upgraded to provide a card access system for certain doors."
More information on the Rotary Clubs of Bermuda can be found online.

Read More About