The Berkeley Institute Arts Department is getting set to present Broadway's 'Peter Pan,' directed by drama teacher Ms. Shalane Dill and promising to take the audience "to a place where dreams are born and no one ever grows up."
The production will be held in the Berkeley Institute Cafetorium from December 3 to December 5 at 7.00pm nightly. General tickets for the production are $15 and patron tickets are $50; tickets can be purchased in person from the school office or online at bdatix.bm.
Peter and his mischievous fairy sidekick Tinkerbell visit the nursery of the Darling children late one night and with a sprinkle of pixie dust begin a magical journey across the stars that none of them will ever forget.
In the adventure of a lifetime, the travelers come face to face with a ticking crocodile, a fierce Indian tribe, a band of bungling pirates, and of course the villainous Captain Hook.
The production features the Berkeley Institute's talented student actors, dancers, vocalists, musicians and visual artists.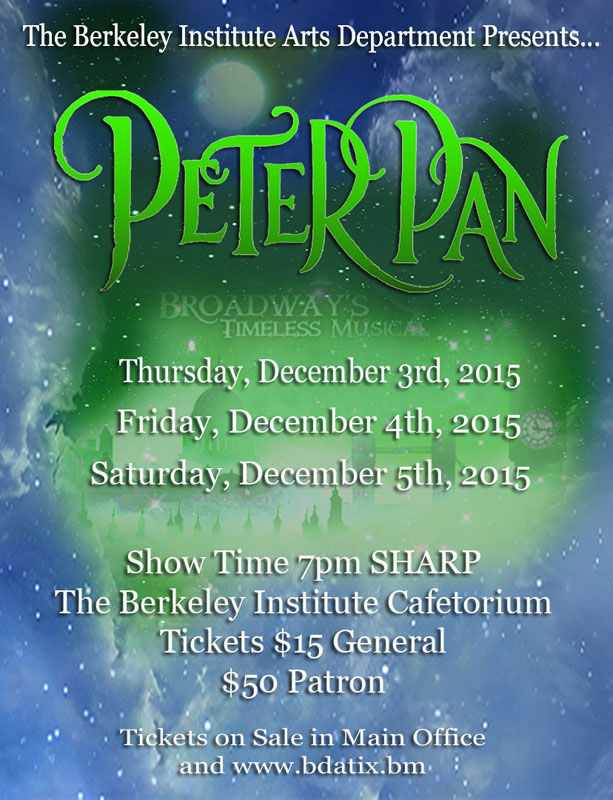 "You will experience the fun and whimsical choreography by Ms. Nikia Manders and the enchanting vocals and orchestra under the musical direction of Mr. John Woolridge and Ms. Karen Carlington," a spokesperson said.
"The iconic songs 'I'm Flying,' 'I've Gotta Crow,' 'I Won't Grow Up,' and 'Never Never Land,' and a rousing book full of magic, warmth, and adventure, Peter Pan is the perfect show for the child in all of us who dreamed of soaring high and never growing up.
"From the moment you walk in the door you can enjoy this magical world and elaborate set designed by our Art teachers Ms. Tenisha Dill and Mrs. Christine Wellman.
"At The Berkeley Institute we aspire to expose our students to world class experiences and encourage them to become leaders in both the local and global communities.
"The Arts Department works tirelessly to showcase our students at their best and develop their skills by exposing them to GCSE's in all Arts disciplines, A levels in Music and Visual Art, various school concerts, International Dance Festivals, Bermuda Schools Shakespeare Festival, Arts Exhibitions and the impressive Marching Panthers who annually performed in the Bermuda Day Parade."
For patron tickets or additional information, contact the school office at 292-4752.

Read More About
Category: All, Entertainment, News