The Berkeley Players are getting set to present 'Sarafina!,' a performance directed by Ms. Shalane Dill, on Friday, April 22 and Saturday, April 23 at 7.00pm each evening in The Berkeley Institute Cafetorium.
Tickets are currently on sale in the school office at $15 for general tickets and $50 for patrons.
A spokesperson said, "The story of Sarafina! takes place at Morris Isaacson High School in Soweto, where, in 1976, about 200,000 black students assembled to protest against government decree that imposed the "official" language of Afrikaans as the new medium of instruction in their classes, instead of their own language, Zulu.
"The police and army came to break up the crowd, and many children were injured or killed. It was here, that the South African Government declared a State of Emergency. The uprising marked the beginning of a period of violent unrest that continues even today.
"The devised performance's focus has grown beyond the issue of Afrikaans to encompass every aspect of the black political struggle."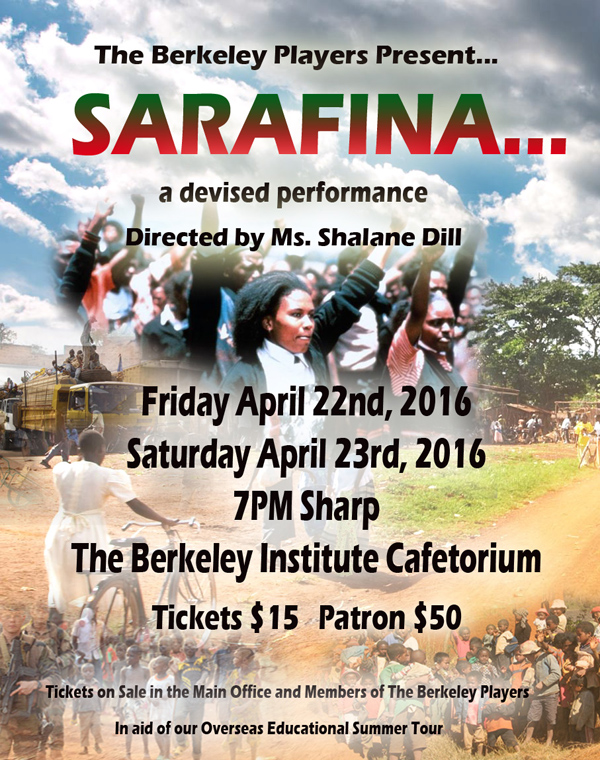 Ms. Dill said, "In our weekly rehearsals, the student gathered and discussed topics, both current and historical and once the scripts were opened, the light bulbs began to go off; we are all connected. Like our brothers and sisters across the seas, many of us are still fighting, not only for equal rights, but some still endure the fight for freedom.
"The students have worked hard during rehearsals and have each managed to put their individual spin on characters, whether its dance moves, characterization or a little taste of who they really are.
"Students will be organizing the technical areas, including lighting, audio, stage managements, costume and choreography. Students have taken the lead and have been exposed to various areas of play production and the level of professionalism is brilliant."
Proceeds from the concert are in aid of an overseas Educational Tour for Theatre and Visual Arts Students.

Read More About
Category: All, Entertainment