Canadian visitor Judy Gerstel has written a glowing review of her time on the island, detailing how Bermudian Shawnette Somner invited her out on a boat following a chance meeting, leading to a "fabulous, fun, joyful day" and forever changing Ms. Gerstal's view of not only Bermudian hospitality, but the idea of friendliness in general.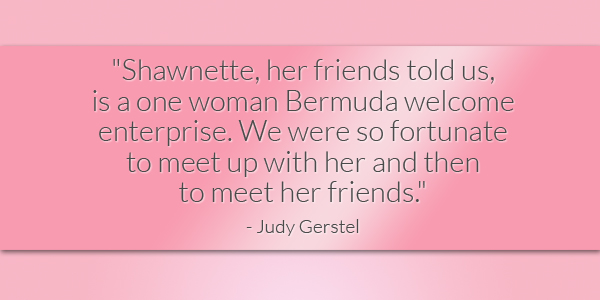 The story in Everythingzoomer.com said, "The climate in Bermuda is sunny –  in every possible way for a few days after I got home from a holiday in Bermuda, I greeted people on elevators. I thanked bus drivers. I said good morning to people who passed me on the sidewalk.
"In short, I behaved like a Bermudian.
"Most people, on the elevators and on the sidewalks, seemed uncomfortable with being greeted by a stranger. They clearly thought it was, well, strange. Some even looked alarmed, as if acknowledging their presence was intrusive, an unwanted intimacy.
"In Bermuda, greetings between people who happen upon each other, however briefly and for whatever reason, are a way of life.
Ms Gerstel said, "We happened to be 'on island' during the trials for America's Cup, the international race that will take place in Bermuda in 2017.
"Even this kick-off was a huge event for the tiny island, with Hamilton's waterfront closed to traffic and packed with a celebratory crowd — kids, strollers, dogs, eating, drinking, partying.
"It was our first night in the city and a woman noticed that we were unsure of which way to go.
"She introduced herself as Shawnette Somner and walked with us and talked about the Cup races the next day. Then she invited us to join her and 20 friends on board a boat they'd chartered for $50 each for race day.
"We were, I'm sorry to say, slightly suspicious. Typically Canadian, eh? After all, we were old white tourists. Why would this ebullient black younger Bermudian invite us to join her buddies out on a boat for the biggest party in recent Bermuda history?
"In the end, we did.
"And what a fabulous, fun, joyful day it was — great barbecue on board, lots to drink and eat, dozens and dozens of other boats around us in the Sound, friends tying up their boats to ours and climbing aboard, cans of icy drinks tossed to others in passing boats, good conversation, Bermudians of all ages on board, Bob Marley singalong, soca dancing on deck.
"Shawnette, her friends told us, is a one woman Bermuda welcome enterprise. We were so fortunate to meet up with her and then to meet her friends.
"Could this have happened in Canada? Doubtful. We're a different country, with a different climate in every way.
"But there will still be days when the sun is shining and the sky is blue and I'll think of Bermuda and channel Shawnette and greet the person who gets on the condo elevator and the driver on the TTC bus with a great big "Good morning!"

Read More About