The Salvation Army is currently holding "Boundless," the Congress of the Salvation Army in Bermuda, until November 15, with General Andre' Cox arriving on the island on November 10 in order to take part in the event.
The Congress will include the opening ceremonies on November 12 at 12.00pm at City Hall, followed by the General's meeting with the Governor at Governor House at 3.00pm. Tomorrow [Nov 13] will see the March of Witness take place on Front Street at 6.00pm, followed by the Boundless Celebration on November 14 at 2.00pm at the City Hall steps.
The Congress will end with Boundless Praise, a musical event, on Sunday, November 15 at the Hamilton Princess.
General Andre' Cox, Commissioner Silvia Cox, and the Bermuda Divisional Band on November 10: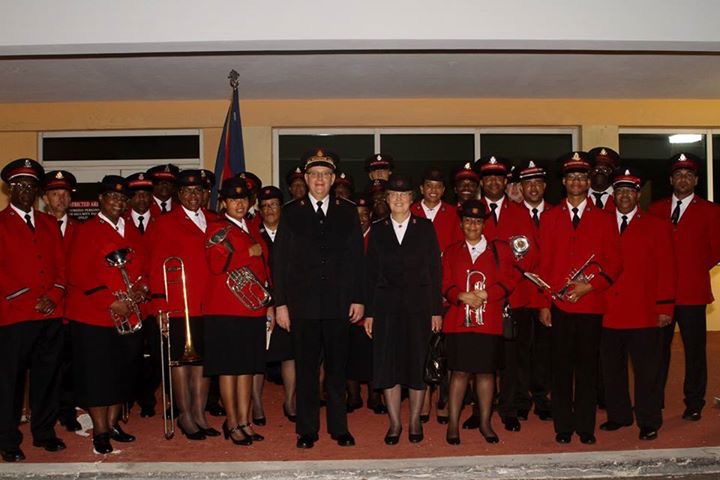 A spokesperson previously said, "Although the work of the Salvation Army is well known in the islands of Bermuda, we wish to keep to the forefront the ongoing work of the Community and Social Services section of the Salvation Army.
"Through our work in the trenches, we carry out the mission of the Salvation Army in very practical ways and in so doing operationalize the mission to share the love of Jesus Christ, meet human needs and be a transforming influence in the community of our world."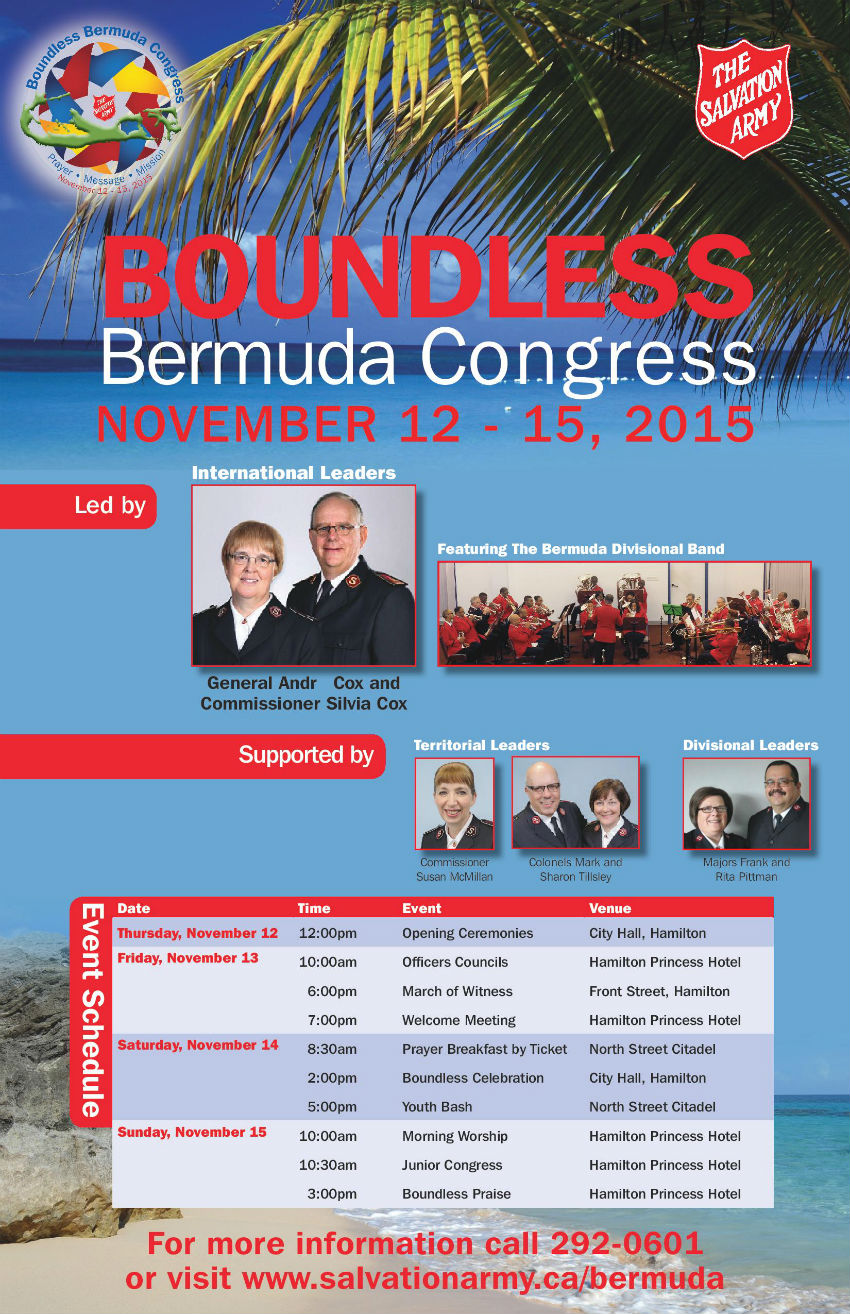 Frank Pittman, Major, Divisional Commander of the Bermuda Division, said, "The Salvation Army is active in 127 countries, so to have the world leader come to Bermuda is quite an honor and exciting for us.
"Also joining us will be our Territorial Commander for the Canada & Bermuda Territory, Commissioner Susan McMillan, and our Chief Secretary, Colonels Mark and Sharon Tillsley, supported by my wife and I Majors Frank and Rita Pittman.
"2015 marks the 150 anniversary of The Salvation Army as an international movement which began its work in East London by our founder William Booth. It was celebrated with an International Congress in London, England this past July which saw 15,000 Salvationist gather at the O2 Arena, including a contingent of 66 of us from Bermuda."
Read More About
Category: All