Twenty-five visiting artists will join the local art community for Bermuda's first-ever Plein Air Festival, and the public will see artists across the island beginning Sunday as they paint Bermuda's landscapes in both private and public locations during the weeklong festival.
Plein Air Festival organisers were successful applicants in the Bermuda Tourism Authority [BTA] Experiences Investment process.
"The Bermuda Plein Air Festival aligns perfectly with our strategy to position the November to March period as the peak season for arts, culture and sports," said Pat Phillip-Fairn, the BTA's chief product and experiences development officer.
"We are very excited to welcome these artists who fit the profile of our target visitor, especially at this time of year.  We hope the art they create next week will inspire those who see it to visit Bermuda in the future."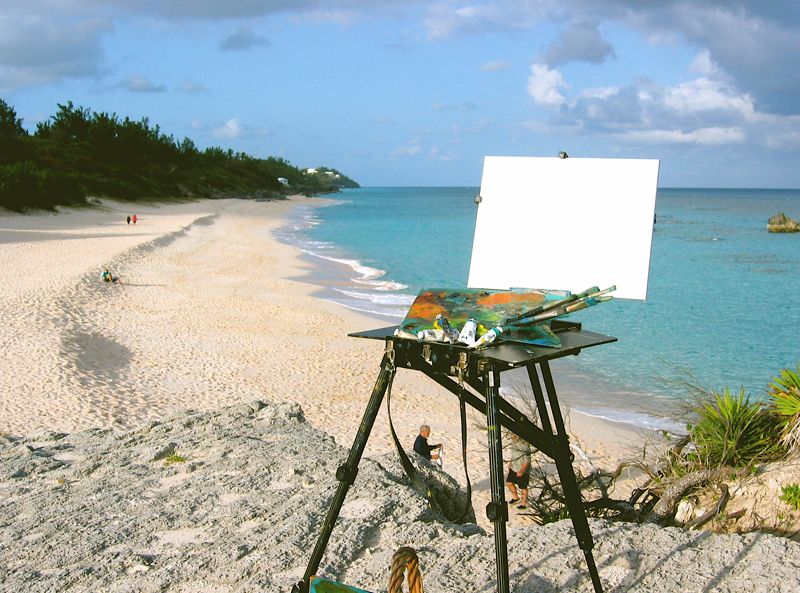 In addition to painting, the artists will visit the Bermuda National Gallery and Masterworks where they will learn about the rich history of the world famous artists who have made Bermuda their winter playground.
Following the arrivals of 25 visiting painters and their guests on Saturday, the festival will run November 15th to 21st.
A highlight of the festival is the "Quick Art Competition" on Thursday when artists will be painting throughout the City of Hamilton between the hours of 9:30 am and 1:30 pm.
In addition to the above competition, artists will be submitting their best painting of the week to compete for the Festival's Best in Show prize, and three Best in Category prizes for oils, watercolour/gouache or pastels/acrylic.  Three international judges will judge the completed works.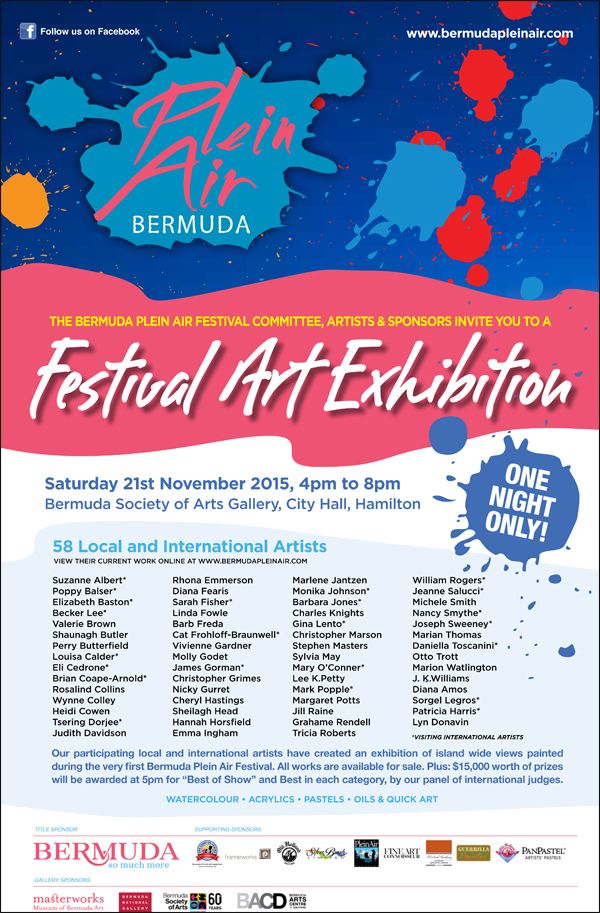 These entries, together with an additional four paintings per artist, will be exhibited at the Bermuda Society of Arts Gallery in City Hall on Saturday, November 21st.
This one day Festival Exhibition will be open to the public from 4:00 pm to 8:00 pm. Cash and product prizes worth $15,000 will be awarded at 5:00 pm. All artwork will be available for purchase.
The sales commissions from art sales will be shared among the Bermuda Arts Centre at Dockyard, Masterworks, The Bermuda National Gallery, and the Bermuda Society of Arts.
The full artist schedule can be found on the Bermuda Plein Air Festival website or on its Facebook page.

Read More About
Category: All, Entertainment, News