Family Centre today [Dec 16] announced that, thanks to the outstanding support from the local community during their 'Children Come First Telethon' last month, they were able to reach their fundraising goal of $250k.
The Charity produced a series of fundraising initiatives throughout the year which culminated in a nationally broadcast Telethon on ZFB-TV 7 on November 18th, 2015.
Funds raised will support the Centre's programmes which are specifically targeted to children suffering from family based problems such as abuse, neglect, and other emotional challenges.
Executive Director of Family Centre Martha Dismont said, "Despite offering our services to the community for the past twenty-five years, I'm always overwhelmed and humbled by Bermuda's ongoing support and generosity for Family Centre.
"To the many people who donated and to those who participated in our fundraising initiatives – on behalf of Bermuda's families – we say thank you'."
One of the most popular fundraising initiatives was the 'Lip Sync challenge' in which participants mimicked their favorite artist/bands. Members of the community were encouraged to pledge money for their favorite performances, which collectively raised over $35,000.
Jubilee-Ann Edness, Patrice Hill and Giovanna Watson [Arch Re] & Family Centre's Martha Dismont.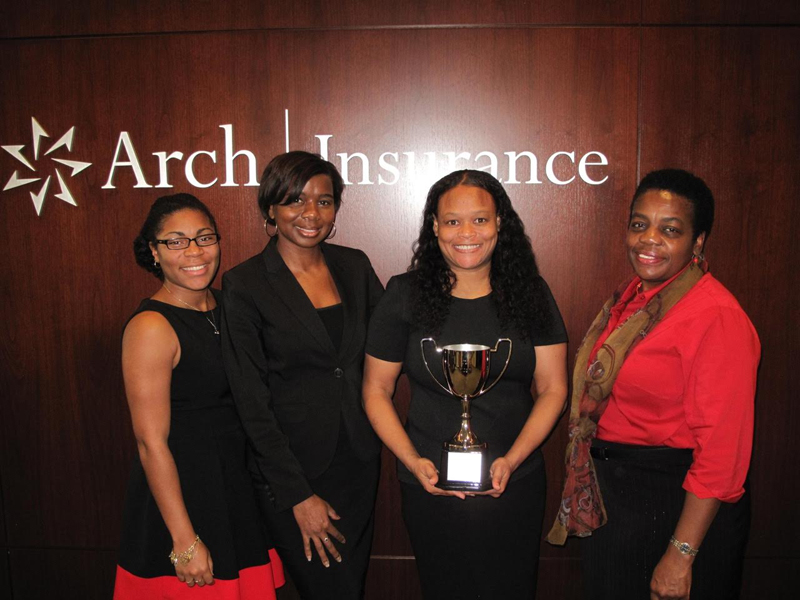 Lip Sync organizer Mrs. Julia Mather said, "We are thrilled that people from all walks of life including those from the local and international business sector as well as students of all ages performed with so much passion on behalf of Bermuda's children.
"The winning performance came from The Arch Angels from Arch Insurance [Bermuda] Ltd., who raised over $7,000 for their rendition of 'Lose my Breath' by Destiny's Child. That amount was kindly matched by Arch Insurance bringing their total contribution to $14,500.00. "
Other teams included Amlin Bermuda Ltd., Axis Capital, Lancashire Insurance Company Ltd., M Core Health & Fitness, Saltus Grammar School, PwC Bermuda and Argo Group International Holdings Ltd.
Mrs. Mather added: "We plan on making this an annual event and we'll be informing the public about how to get involved in 2016. To view all performance, please visit the Family Centre website at www.tfc.bm".
Mrs. Dismont concluded: "We are so grateful to those who volunteered their time to produce our Telethon event. Many people spent selfless hours to ensure that it would be a success. We are very grateful to the wonderful team of people and the companies who sent staff to man the phones on the night.
"The families of Bermuda must continue to hold hope for our future. The community is coming forward to support you.
"Please continue to do your part to honor the growing commitment in our community to assist families in need. Family Centre extends its best wishes for a Happy Holiday season!"
Read More About
Category: All, Entertainment, Music, News