The New Life Church of Nazarene recently held a special service in order to honour some of Bermuda's "unsung heroes" of local volunteering, including Marsha Carey, Sheree Jacobs, Ideitha James, Mark "Burger" Jennings, Cynthia Williams, Jevon Williams, Karon Wolffe, Gregory & Felicity Jacobs, and Rev. Dr. Ernest Peets Jr.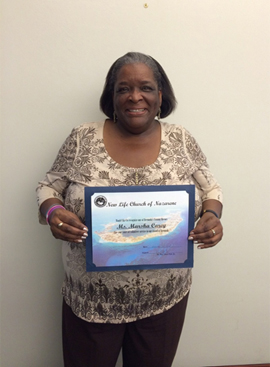 Ms. Marsha Carey
Giving honour to my Lord and Saviour Jesus Christ, who is first and foremost in my life, I am humbled to receive your acknowledgement of my Community Service in your letter of October 30, 2015 and accept Your Award with a grateful heart.
There have been many great influences in my life who have helped to mold me into the caring citizen who I am proud to be today. I am thankful for a strong and loving Grandmother, who didn't have much, but she shared with everyone. The neighbourhood children always played in her yard and she often fed them somehow.
God's love is so important. God knows that I am thankful for my Mother, a single parent, who worked hard in her career as a waitress at a major hotel, battling rheumatoid arthritis for the better part of her life. But when fund-raising was required for the community, she never blinked when called on to bake pound/fruit cakes, cassava/farine pies, pot luck meals, even when the hotel was slow and she had to provide for her own children. Our God always provides.
My favourite Teacher, who attended The Central School with my mom, tutored me without charging my mother, seeing my potential, understanding my need for her help and thumping me like my mother would, when required. It was all much love, God has a sense of humour.
In the late 80s, when the youth of Bermuda were restless, everyone complained and did very little to help the situation. I was fortunate to be invited, by a family member, to attend the Annual Prize Presentation at my Alma Mater.
The speaker impressed me with such profound words of advice, which I hold near and dear to this day. He was speaking directly to me when he said "If you are complaining about the youth and doing nothing, then you are a part of the problem. Think of an activity or hobby that you love and for which you have a passion, find a group that has already been developed and offer your assistance, or create one of your own and encourage others to help you".
Bowling was my love and passion, even though I have never been good at it. I was willing to help the administration and to teach when I joined the Bermuda Junior Bowlers at Warwick Lanes and retired after 20 years of service. To this day, I remain connected to my children, some now finished their education, married and have children in the program. God's Order will prevail.
When I see there is a need, I ask, who will? At times, I figure it is for me to stand in the gap.
My Community Service has never been for my glory. In volunteer work, there have been many thankless occasions, but knowing why I am helping, sets me free from needing a pat on the back. I believe in staying in the wings and anticipating anything which may be required to keep things in order, to accomplish the common goal.
Understanding that I am a teacher at heart, when CedarBridge Academy was opening, there was a concern in the community regarding children's reading skills. I offered my services and became a part of the reading program for three years, but was forced to discontinue, when I changed places of employment.
Homework Buddy Club at Victor Scott [formerly known as The Central School], has been an easy task for the past three years, preparing the children for their promotion into Middle School, with homework assistance. Life is good, God is good and He gets the glory above all things.
Psalm 23V6 'Surely goodness and mercy shall follow me all the days of my life: and I will dwell in the house of the Lord forever.'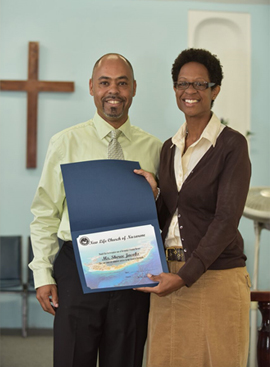 Sheree Jacobs
I started working with youth in the late 90's as a camp counsellor at the Government Teen Girls camp here on the island during my summer university breaks. Once I completed school in 1998, I became involved in youth ministry starting here at this very church as a youth leader.
In 2002, after three different people urged me to check out Young Life Bermuda, I became a volunteer leader in their high school Young Life club. In December 2002, Young Life started praying for a full time female staff member, a position I did not consider myself for. But God had other plans. He had already placed a desire to work with young people in my heart as I was in my fifth year of teaching at a local middle school.
But over a two year span, the Lord started to transform my heart from wanting to be in the classroom, to wanting to be more available to the young people I was seeing every day. This new heart He gave me, saw me leave teaching in June 2003 and become the YL High School Coordinator that September.
It has been an amazing 12 year journey from teaching Social Studies in a class to teaching and sharing with Bermuda's young people of all ages in their own environments, that there is another choice out there from what the world offers: that Jesus has come to offer them the full life that each of us yearns to have and that God wanted for all from the beginning of time.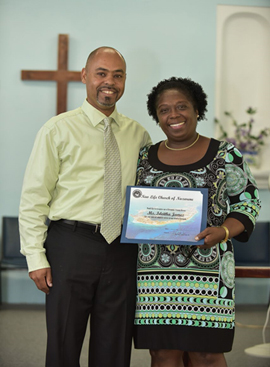 Ideitha James
I have been volunteering my time with YouthNet since 2003. YouthNet's vision is to provide role models for students in a positive and nurturing environment and to give the students an opportunity to thrive through positive relationships.
Although I was studying to complete my Bachelors degree, working full-time and raising my daughter, YouthNet piqued my interest. I was busy but I was determined to commit to YouthNet as it only required one lunch hour per week for the duration of the school year.
I had to attend meetings, undergo training and even a police check before being assigned a mentee. YouthNet match you with a child of similar interests. It did not matter if I was matched with a boy or girl. I just wanted to make a positive difference in the mentee's life.
Some of the relationships went beyond lunch hours but it depended on the child. To calculate the hours I spent with each child is difficult but the recommended time is 35 hours a year. There had been occasions where I couldn't meet due to work commitments. Sometimes I would meet with them during the week and again on weekends or school breaks if I was on vacation. Each child was a learning experience, everyone positive.
Some were very talkative and others didn't say much at first but after a while they usually came around. I learned that each child is different and my approach to connect to each depended on the child. If they wanted to go beyond just lunch hours, I always asked to speak to their parents first and exchange contact details and get their approval. The experience also opened up my eyes to what teachers were dealing with on a regular basis. I take my hat off to them.
During the years I have been matched with several children, two from Victor Scott and 4 from Prospect Primary. I have been matched with 3 boys and 3 girls. I am in my second year with my present mentee at Prospect Primary and hopefully I will be able to continue with her but it depends on where she attends middle school.
The unfortunate part for me was when the students moved on to middle schools outside of the central parish. The travel time to and from the school for a lunch hour meeting was not beneficial to either of us.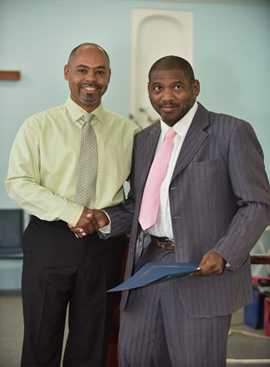 Coach Mark "Burger" Jennings
Everybody knows him as "Burger" a nick name that he has had since his youth. Coach Jennings represented Bermuda as a youth player from May 1980 through June 1982. He also represented Bermuda in two C.O.N.C.A.C.A.F. Youth Championship Tournaments. Mark has a wealth of college and international playing experience.
He was a member of the Bermuda National Team at the U-16, U23, and full national team levels. He also attended Philadelphia College of Textile & Science graduating in 1986 where he played for the legendary coach Walter Chenowith.
Coach Jennings was the recipient of a 4 year soccer scholarship to the Philadelphia College of Textiles & Science. After college he coached at Augusta College [now Augusta State University] for a period of five years. Coach Jennings also played professional indoor soccer for Philadelphia from 1988 to 1990.
He is also the former Goal-Keeping Coach for the Bermuda FA Women's National Team Program. Coach Jennings also coached the Devonshire Cougars, Hamilton Parish, Statesboro Soccer Club, Augusta Arsenal Gunners of the Bermuda Football Association
Since retiring from soccer due to injury, Coach Jennings has dedicated his life to the development of young soccer players. Coach Jennings assistance on and off the field has helped hundreds of young players reach their goals. Coach Jennings Grassroots Soccer program and his College Blue Print program has provided him with a platform to give back to his community. Whether it is raising funds for camps, training, or equipment Coach Jennings is always there to assist.
Coach Jennings understands the value of a college education, and has dedicated his life in assisting student athletes in obtaining scholarships and soccer trials. Where and whenever possible, Coach Jennings also shares his testimony and his faith. Coach is not just concerned in helping players develop their soccer skills, he is also committed to helping players develop their faith in God.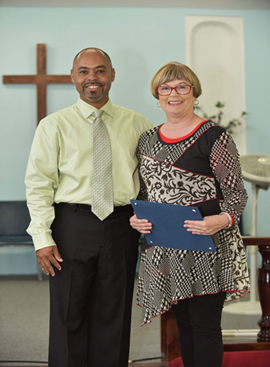 Cynthia Williams
Before I joined the Board of Trustees of the Bermuda End to End I was a participant of the annual event. Those individuals that do not walk, ride, swim, row or ride a horse cheer those that do participate on. All walks of life in Bermuda come out, I call that day "Bermuda at its best".
When I was elected to the Board I discovered that everyone that works on the End to End is an unpaid volunteer. All of the goodies that are handed out are donated so that every penny collected goes directly to the charities.
Over the past 28 years the Bermuda End to End has donated over $5,000,000 to Bermuda charities.
It may be unknown to the public but the Board of Trustees works all year on this one day event. Planning for the next year happens one month after the annual event has taken place. It has been a privilege and honor to be associated with the Bermuda End to End.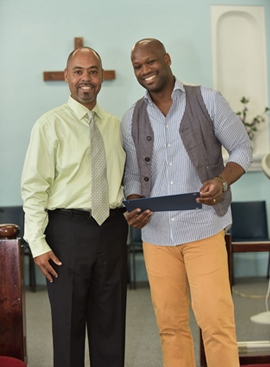 Jevon Williams
I enjoy helping others because people have helped me in the past. I truly believe that so many things would be better in the world if we all did just a little for our neighbor, brother or sister.
My mother has always from a young boy encouraged me to give back to the community as well – despite not having a whole lot ourselves.
I guess this has always stuck with me into adulthood. I have been involved with Big Brothers Big Sisters and various efforts/projects to improve the Victor Scott School grounds and education experience all around.
I also believe that working to help better your community has a direct correlation to your wellness and naturally the wellbeing of your children.
My family, of course will always be a driving factor as I want to make the place that they call home as best as it can be.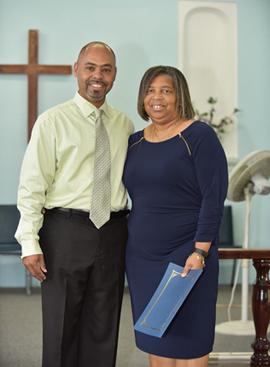 Karon Wolffe
I really cannot remember a time when I was not involved in volunteering. My daughters now age 32 and 29 have grown up experiencing the work that I have done for various organizations over the last 30+ years.
Being a support to them while they did their various extracurricular activities was a must, even though they are adults I am still involved in any organization/event they are supporting.
I remember the days when I spent my Saturday afternoon and evenings at Warwick Lanes coaching the young children in the program. Tuesday evenings were spent doing administration work for both the Pembroke Community Club and Pembroke Hamilton Club Majorettes & Drum Corp.
I have been involved with the End to End walk since it's inception. Once sometimes twice a month I deliver meal to the seniors for Meals On Wheels. Bermuda Cancer and Health Center is another organization that I am heavily involved with and I am the Volunteer Coordinator for the Relay For Life event, just to name a few.
I enjoy giving my time and skills to help organization to succeed. It's part of my nature, I believe more people need to get involved as every little bit helps. When you volunteer your time and effort it touches many lives. As I said to someone writing about myself is really hard as this is something that comes natural to me, I get my reward and satisfaction from giving a helping hand, and not for the recognition.
Volunteer work should be enjoyed – not a chore. Find something that you like to do and what gives your pleasure and join an organization that works for you.

Gregory & Felicity Jacobs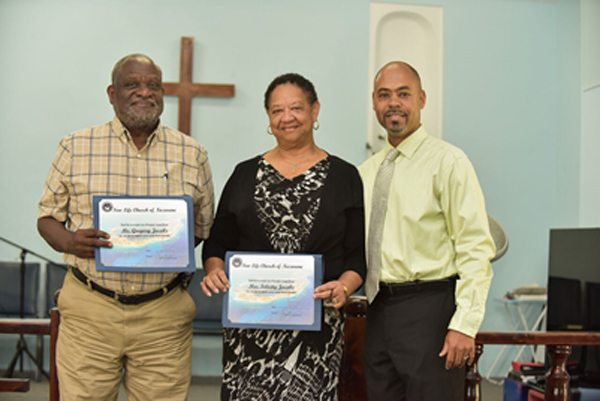 This couple are very special as they frequent the most unlikely places…. these two truly care about people and their wellbeing and make every effort to let people know they are valued with their words, presence and yes even in giving as it necessitates while one hospitalized or confined to their home.
They visit the hospital several times a week. Once they discover that a friend, neighbor, relative and even a acquaintance is in the hospital, they make plans to go by to let them know they are in their prayers. This hospital visitation has become their unofficial ministry together.
Another place they go at least weekly is to support family and friends in their time of mourning is the funeral home. They are sure to go by and give a hug and kind words of comfort. They reach out and touch others when people are facing their most challenging times.
They say one can figure out what is dear to a person by looking at how they spend their money and how they spend their time. They are truly rare in today's world and we thank them, for the giving of themselves in so many ways, especially to those who find themselves hospitalized and in need of knowing that they are thought of in the most sincere and caring way.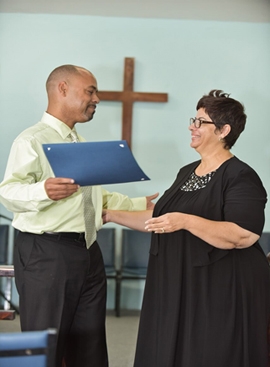 Rev. Dr. Ernest Peets Jr.
Dr Peets lives by a simple philosophy, give more than you take, contribute more than you use. Dr. Peets devotion to helping his community is almost impossible to calculate. Outside of his ministerial contribution, Dr Peets has served on numerous Boards and organizations.
His longest service has been seven years as a Board Member for Impact Mentoring Academy whose primary focus is educating and mentoring adolescent men. In 2008 Dr. Peets and his wife founded non-profit agency called The Counseling Center to further the work of God in the community.
Through the Counseling Center Dr. Peets contributes over $20,000 of free counseling and therapeutic services a year [266 hours a year, or 5 hours a week]. Dr. Peets along with Wayne Dill also give up every Thursday, every week, every year to run DivorceCare a free service for families experiencing divorce or separation. He also works full time at FOCUS.
Once year, sometimes every two years depending on his schedule, Dr. Peets also gives up a week of his busy life to travel to Trinidad & Tobago where he donates his expertise as an adjunct Professor at Caribbean Nazarene College.
In addition to all this, Dr. Peets also finds time to provide mentorship and clinical supervision for graduating students entering psychological field. Currently Dr Peets is actively mentoring students in Trinidad & Tobago, San Deigo, and Bermuda.

- Bios above all provided, and photos courtesy of Anthony Wade

Read More About