An international fleet of sailors will take part in the Amlin International Moth Regatta, which is being hosted by the Royal Bermuda Yacht Club and features a $10,000 prize purse.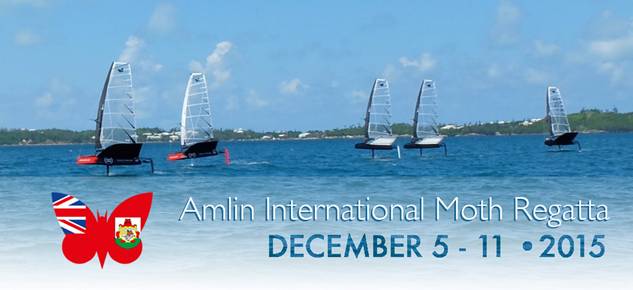 "I've been out practicing for two days and this is the best place I've ever sailed," said 38-year-old Rob Greenhalgh after a day of sailing in 12 to 15 knots
Mr Greenhalgh staged a comeback to win the Moth European Championship last summer. He won the last of 10 races to overcome rival and compatriot Chris Rashley by 1 point after Rashley had led from Race 1.
He arrived in Bermuda earlier this week to unload his boat and rig it for a week of training before racing starts next Monday.
"You jump at the opportunity to sail in an awesome venue like this at this time of year," said Mr Greenhalgh. "Sailing in the U.K. now is similar to New England: cold. December, January and February are not productive months so it's great to be here and get some racing in."
Mr Greenhalgh is joined by the likes of Mr Rashley, who placed 2nd and 4th at the 2014 and 2015 Worlds, respectively, and Britons Ben Paton, who was 5th at the 2014 Worlds, and Tom Offer, who was 8th at the 2014 Worlds.
Other notable entries include Anthony Kotoun of the U.S. Virgin Islands, who won the U.S. Nationals last summer, Adriano Petrino of Switzerland, who won the Silver Fleet at the 2015 Worlds, and longtime class competitors Eelco Boers of Denmark and Giovanni Galeotti of Belgium.
"There are a lot of good guys," said Mr Greenhalgh. "And with the Cup guys, we'll have to be on the money."
The Moth is a high-tech dinghy that races on hydrofoils. It has become popular with America's Cup sailors as they learn the nuances of hydrofoiling in advance of the 35th America's Cup, which is scheduled to be sailed in a hydrofoiling catamaran in Bermuda in June 2017.
As many as 15 America's Cup sailors are expected to compete in the Amlin International Moth Regatta, including Dean Barker and Chris Draper of SoftBank Team Japan, Tom Slingsby and Kyle Langford of ORACLE Team USA, and Francesco Bruni and Paul Goodison of Artemis Racing. Goodison placed 3rd at the Europeans last summer.
"The Europeans was a great event with 75 boats and I'm looking forward to racing again with the addition of sailors from Oracle and other Cup teams in Bermuda," said Mr Goodison, who also placed 12th at the Worlds in 2014.
"The class is as competitive as ever and I'm sure the Royal Bermuda Yacht club will put on a fantastic event."
The Amlin International Moth Regatta will also support an initiative for the Andrew Simpson Sailing Foundation, which was founded in memory of Olympic Gold medalist Andrew "Bart" Simpson.
During the regatta, sailors, RBYC members and visitors will be encouraged to "buy a beer for Bart" with all proceeds going to the ASSF.
"The Andrew Simpson Sailing Foundation was chosen because of its objective to inspire the next generation by using sailing to improve the lives of young people around the world," said Andy Cox, regatta chairman.
"There'll be signs placed all around the club encouraging everyone to buy a beer, or round, for Bart."
The upcoming schedule sees practice races slated for Saturday and Sunday, Dec. 5 and 6, with the Opening Ceremony planned for Sunday evening.
Mr Cox said that the second practice race on Sunday might be sailed on Hamilton Harbour off of the Royal Bermuda Yacht Club to afford a close-up view of the action. Racing next week will be held on Great Sound. The plan is to sail the fleet as one group with two to three races per day.
The Amlin International Moth Regatta is sponsored by Amlin plc, and additional sponsors include the Bermuda Tourism Authority, EFG International, Gosling's, the Official Rum of the Regatta, and Kaenon Polarized.
Preliminary List Of Entrants [subject to change]
Thomas Allin [USA]
Nathan Bailey [GBR]
Dean Barker [JPN/SoftBank Team Japan]
Jason Belben [GBR]
Eelco Boers [NED]
Francesco Bruni [SWE/Artemis Racing]
Andrew Campbell [USA/ORACLE Team USA]
Matt Cassidy [USA/ORACLE Team USA]
Chris Clarke [GBR]
Sebastien Col [FRA]
Kalle Coster [NED]
Victor Diaz de Leon [VEN]
James Doughty [BER]
Chris Draper [JPN/SoftBank Team Japan]
Rory Fitzpatrick [IRL]
Kinley Fowler [USA/ORACLE Team USA]
Giovanni Galeotti [BEL]
Jonny Goldsberry [USA]
Paul Goodison [SWE/Artemis Racing]
Robert Greenhalgh [GBR]
Jonathan Heathcote [RSA]
Markus Hirsch [AUT]
Simon Hiscocks [GBR]
Andy Horton [USA]
Stefan Järudd [SWE]
Chris Jeeves [GBR]
Tom Johnson [USA/ORACLE Team USA]
Rome Kirby [USA/ORACLE Team USA]
Alistair Kissane [IRL]
Matthew Knowles [USA]
Anthony Kotoun [USA]
Kyle Langford [USA/ORACLE Team USA]
Matthew Lea [GBR]
Thomas Loughborough [USA]
Richard Mason [GBR]
Zachary Maxam [USA]
Steve McLean [GBR]
James McMillan [GBR]
Ben Moon [USA]
Chris Museler [USA]
Joe Newton [USA/ORACLE Team USA]
Sam Newton [USA/ORACLE Team USA]
Tom Offer [GBR]
Ben Paton [GBR]
Tim Penfold [GBR]
Adriano Petrino [SUI]
Philippe Presti [USA/ORACLE Team USA]
Chris Rashley [GBR]
Hans Rasmussen [DEN]
Christopher Rast [SUI]
James Sainsbury [GBR]
Nat Shaver [USA]
Louis Sinclair [USA/ORACLE Team USA]
Tom Slingsby [USA/ORACLE Team USA]
Dave Smithwhite [GBR]
Graeme Spence [USA/ORACLE Team USA]
Dan Ward [GBR]
Joseph Wilson [USA]

Read More About