A fleet of 52 sailors, including two of the top three finishers from last year's regatta, is set to contest the second annual MS Amlin International Moth Regatta on Bermuda's Great Sound.
Hosted by the Royal Bermuda Yacht Club, the $10,000 regatta begins Saturday, Dec. 3, and runs through Friday, Dec. 9.
Last year Rob Greenhalgh and Paul Goodison made British sailing proud when they finished first and third. Greenhalgh trailed by 1 point heading into the final day and then went out and won all three races in dominant fashion to stamp an 8-point victory. Goodison, a member of Artemis Racing for the America's Cup, placed third.
At the 2016 Moth World Championship in Japan last May, however, it was Goodison, the 2008 Olympic Gold medalist in the Laser class, who turned the tables. Goodison won his first Moth World Championship with Greenhalgh third.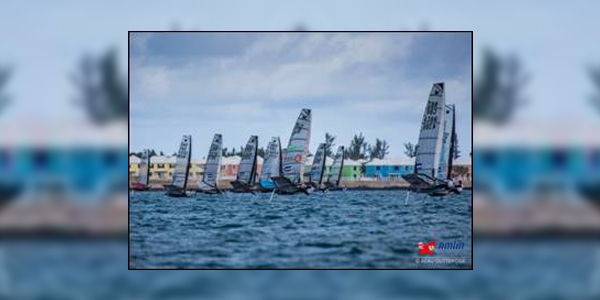 The two Moth diehards headline a world championship caliber field that also includes the 2011 and 2014 Moth World Champion Nathan Outteridge of Australia, the helmsman for Artemis Racing, as well as his longtime crewmember and friend, Iain Jensen, the wing trimmer for Artemis Racing. Outteridge and Jensen won the 2012 Olympic Gold medal in the 49er Class.
"This regatta was a great success last year and we're pleased to welcome MS Amlin back as title sponsor," said regatta chairman Andy Cox. "We have a very competitive fleet this year and the racing should be very exciting. Besides the top guys, there are other good sailors in the fleet who could give them a run for their money."
Included in the mix is a third Australian, Scott Babbage of SoftBank Team Japan. He didn't race last year in Bermuda but he's got Moth pedigree, having finished 2nd, 3rd or 4th in five of the past six world championship regattas.
There's also Simon Hiscocks and Ben Paton, both of the U.K. Hiscocks and Paton have valuable experience racing on Great Sound after placing fifth and sixth, respectively, at last year's MS Amlin International Regatta. Paton also placed fifth at the 2016 Worlds.
2016 MS Amlin International Moth Regatta Preview
"Being the second time racing in Bermuda we all have a bit more knowledge of the venue and how the wind works," said Greenhalgh. "It should be easier, but the good guys are all going fast so we'll just go out there and give it our best."
The fleet also includes a pair of women sailors, Annalise Murphy of Ireland and Josie Gliddon of the U.K. Murphy won the Silver medal in the Laser Radial class at the Rio Olympics, following up a 4th place finish at the 2012 London Games. Gliddon is an experienced one-design sailor whose husband, Paul, is also entered.
Locals in the mix include Nathan Bailey, James Doughty, Richard Graham-Enoch, Josh Greenslade, Christian Luthi and Brett Wright.
A prize purse of $10,000 is up for grabs, with $5,000 earmarked for the winner. Up to three races per day are scheduled beginning Sunday, Dec. 4. Wednesday, Dec. 7, is a scheduled lay day but will be used as a race day if one of the previous days is lost due to weather. Racing concludes on Friday, Dec. 9.
The MS Amlin Dash for Cash is scheduled for Saturday, Dec. 3, at 11.00 and will feature groups of Moth sailors racing in the confines of Hamilton Harbour in a shoot-out format. Races will be short, fast and furious. The winner of each group will advance to a final grouping, and the winner of that group will receive $500 and a bottle of Goslings Rum.
"The Dash for Cash was a great success in 2015 and we have last year's winner Nathan Outteridge back to defend his title," said Cox. "We encourage all locals to come down to the Royal Bermuda Yacht Club to view the racing right off the dock. The Moth is so fast that you have to see it to believe it."
The Moth is an 11-foot hydrofoiling dinghy that is sailed by one person and is capable of sailing on hydrofoils in winds as light as 7 to 9 knots. The class allows for great latitude in development and attracts sailors who enjoy tinkering with their boats. It's not uncommon for the top sailors to have different sails, rudders, daggerboard and t-foils optimized for light and strong conditions.
Racing last year on Great Sound saw a mix of conditions, from very light winds that cancelled a day of racing to gear-busting conditions that forced 20 boats to either retire or elect not to participate in Race 5. The Moth is a fragile boat so when the breeze is on a solid performance is about keeping the boat in one piece while flying around the racecourse.
The MS Amlin International Moth Regatta is sponsored by Amlin plc, a FTSE 250-listed independent global insurer and reinsurer with operations in the Lloyd's, UK, continental European and Bermudian markets. Additional sponsors include the Bermuda Tourism Authority, Gosling's, and Kaenon Polarized.
MS Amlin International Moth Regatta Entrant List [Subject to change]
Scott Babbage [AUS/SoftBank Team Japan], Nathan Bailey [SCO/BER], Michael Barnes [GBR], Duncan Barr [GBR], Stuart Bithell [GBR], Andrew Budgen [GBR], Craig Burlton [GBR], John Clifton [GBR], James Doughty [BER], Rory Fitzpatrick [IRL], Dylan Fletcher-Scott [GBR], Giovanni Galeotti [BEL], Josie Gliddon [GBR], Paul Gliddon [GBR], Paul Goodison [GBR/Artemis Racing], Richard Graham-Enoch [BER], Hiroki Goto [JPN], Rob Greenhalgh [GBR], Josh Greenslade [BER], Chris Grube [GBR], Johnathan Heathcote [RSA], Simon Hiscocks [GBR], David Hivey [GBR], Stefan Jarudd [SWE], Chris Jeeves [GBR], Iain Jensen [AUS/Artemis Racing], David Kenefick [IRL], Alistair Kissane [IRL], Matthew Lea [GBR], Michael Lennon [GBR], Christian Luthi [BER], Max Maege [GER], Richard Mason [GBR], Steve McLean [GBR], James McMillan [GBR], Annalise Murphy [IRL], Nathan Outteridge [AUS/Artemis Racing], Ben Paton [GBR], Tim Penfold [GBR], Tom Powrie [NZL], Philippe Presti [FRA/Oracle Team USA], Hans Rasmussen [DEN], Stefano Rizzi [ITA], James Ross [GBR], James Sainsbury [GBR], Benn Smith [BER], Dave Smithwhite [GBR], Matthew Stark [GBR], Kyle Stoneham [GBR], Ian Southworth [GBR], Dan Ward [GBR], Brett Wright [BER]

Read More About