England's Rob Greenhalgh is a hard man to bet against when there's money on the line. Just ask Chris Rashley or Dylan Fletcher-Scott.
For the second consecutive year, Greenhalgh came through when it mattered most and successfully defended the MS Amlin International Moth Regatta hosted by the Royal Bermuda Yacht Club.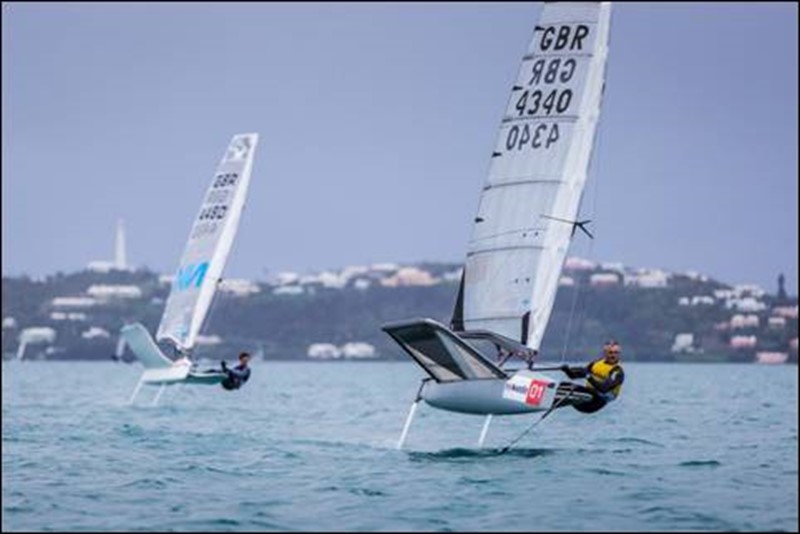 "I'm satisfied with the win. It's been hard, so I'm pleased to win," said the 39-year-old Greenhalgh. "Last year I was never leading until the last day, but this year's been a very different regatta. Last year the weather was more consistent, either windy or light.
"This year we've had every season in one day. It's been very complex, been tough. I haven't sailed perfectly, haven't always had the right gear up. So it was good to come out today and do it. It was difficult."
Last year Greenhalgh entered the final day trailing Rashley by 1 point. He then went out and won four races to score an 8-point victory.
This year Greenhalgh led Fletcher-Scott by 3 points at the beginning of today's racing, and then the heavy lifting started. After the first two races Fletcher-Scott held a 1 point lead by virtue of a second discard being calculated into each skipper's scoreline.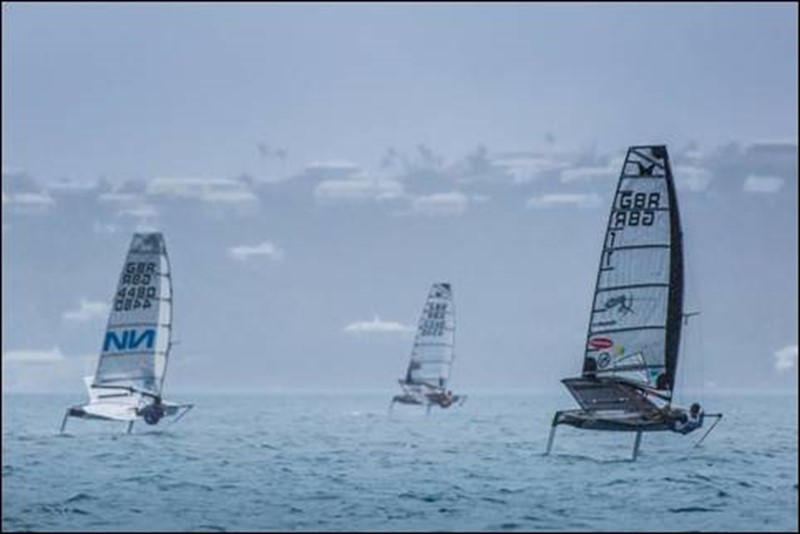 Fletcher-Scott, in fact, appeared on his way to overall victory in the third race, holding 2nd to Greenhalgh's 5th at the beginning of the run to the finish. But then the wind dropped out, the race was abandoned, and Greenhalgh had new life.
"It was intense," said the 28-year-old Fletcher-Scott. "I finished just ahead of him in the first race. He finished just ahead of me in the second race. And in the third race, which got abandoned, he was sort of 4th or 5th when I was 2nd. I was upset because if that had held I would've been in good stead."
When the third race was restarted Greenhalgh employed match racing tactics and started to windward of Fletcher-Scott as both came off the pin end. They sailed out to the left side of the course with Greenhalgh blanketing Fletcher-Scott. The younger skipper tried to wriggle free to tack away, but Greenhalgh matched every move.
Greenhalgh drove the pair back in the fleet after the first lap. A poor finish would hurt Fletcher-Scott more. Beginning the second upwind leg Greenhalgh broke off to the right while Fletcher-Scott continued left. At the finish line about 15 minutes later Greenhalgh was 2nd and Fletcher-Scott 4th. That gave Greenhalgh a 1 point lead.
"In that third race we both thought it would be the last race, so it was a full on match race," said Fletcher-Scott. "He was a little quicker than me. He did a good job covering me up the first beat and pushed me back. Then we had another race and it was who beats whom. He did better than me, he was just quicker. I was hiking as hard as I could, doing all I could. But he was able to stay in front of me and make my life really hard."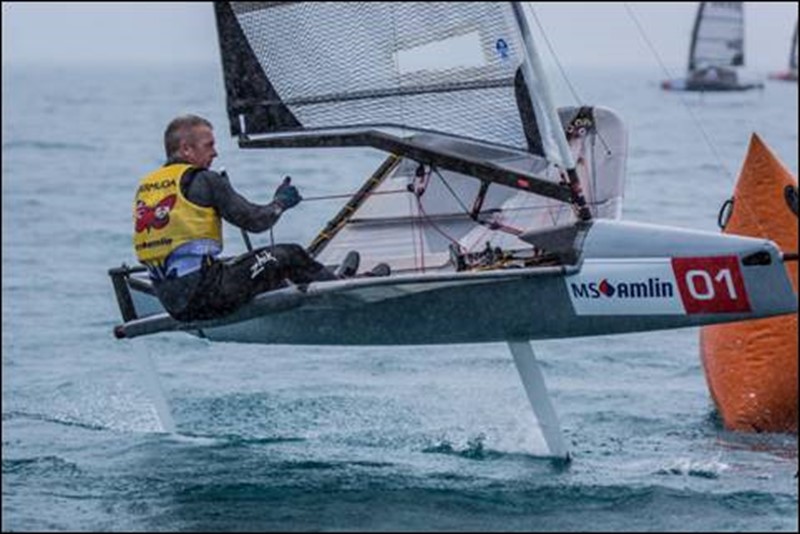 Greenhalgh finished 3rd in the final race to Fletcher-Scott's 5th and scored a 3-point victory. Greenhalgh won $5,000 of the $10,000 prize purse and Fletcher-Scott won $2,000.
"Dylan's been going very well in the breeze, and a lot of sailing comes down to speed," said Greenhalgh. "He was quick in the breeze and I was struggling. Today I sort of sorted that out. I had a different mast, foils and battens, and it was a better setup. But then it went light. It's tricky. You can't always get it right. But in the last two races when the breeze was up I was going well."
David Hivey of the U.K. placed third with 34 points and won $1,500. He was followed by Ben Paton in fourth with 47 points, good for $1,000, and James McMillan in fifth with 64 points, for $500.
The 12th place finisher was reigning Moth World Champion Paul Goodison of the U.K., who finished with 117 points. His scoreline included three 1sts, four 2nds and two DNC's at 51 points each.
Goodison, the backup wing trimmer for Artemis Racing, a challenger for the 35th America's Cup, missed the races because of practice commitments with Artemis Racing. Minus that commitment, he could've played a huge role in determining the overall winner.
The MS Amlin International Moth Regatta attracted a field of 50 Mothists from 10 nations. MS Amlin representative Charles Penruddocke, a Senior Class Underwriter at MS Amlin Bermuda, said the event fits MS Amlin's goals of giving back to the Bermuda community and fostering a relationship with international competitors.
"It's thrilling that the MS Amlin International Moth Regatta came down to the last day of racing once again," said Penruddocke. "I'm pleased to announce that we are committed to another year of the regatta. So see you all next year."
All photos courtesy of Beau Outteridge/MS Amlin International Moth Regatta.
MS Amlin International Moth Regatta Final Provisional Standings, after 12 races, including two discards
1. Rob Greenhalgh [GBR] [3]-1-[8]-3-2-3-1-2-2-3-2-3 – 22 points
2. Dylan Fletcher-Scott [GBR] [7]-4-1-1-1-2-2-[51-DNC]-1-4-4-5 – 25
3. David Hivey [GBR] [13]-6-3-4-6-1-3-[7]-3-2-5-1 – 34
4. Ben Paton [GBR] [51-DNF]-3-4-6-36.5-4-5-3 – 61.5
5. James McMillan [GBR] 6-7-[9]-5-8-7-8-6-6-7-9-4 – 64
6. Dan Ward [GBR] 8-[13]-[19]-13-5-6-7-8-5-9-6-8 – 75
7. Jonathan Heathcote [GBR] 5-11-[12]-9-7-8-6-5-10-[51-DNC]-7-7 – 75
8. Simon Hiscocks [GBR] 9-9-[10]-[12]-3-10-4-4-9-10-8-10 – 76
9. Stefano Rizzi [ITA] 4-5-5-14-4-5-11-12-[15]-8-11-[51-DNC] – 79
10. Rory Fitzpatrick [IRL] 1-2-13-8-[51-DNC]-[51-DNC]-9-9-13-12-13-12 – 92

Read More About