In an article entitled "7 Hotels You Didn't Know Were Owned by Celebrities," the Huffington Post has spotlighted the planned Ariel Sands resort in Bermuda.
The Huffington Post article said, "Hollywood power couple Michael Douglas and Catherina Zeta Jones co-own the Ariel Sands Resort in Bermuda.
"The resort, which is currently being redeveloped and will open in 2017, will feature beachside cottages as well as a fresh water pool, direct beach access, a salon and spa. The best part about the hotel, however, has to be the dedication to building an eco-friendly property, which will utilize green energy."
Rendering of the planned development courtesy of Ariel Sands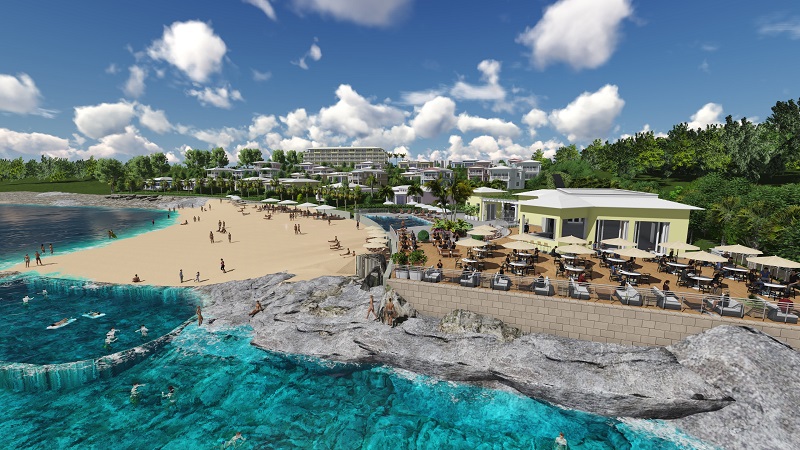 The groundbreaking for the development, which is said to be costing some $90 million, was held in November of 2014, and according to the planning notice, the proposed redevelopment of the Ariel Sands property will include a hotel-condo development consisting of two and three bedroom single storey villas, a restaurant, spa, gym, beach club and more.
Other celebrity owned resorts on the Huffington Post's list include the Gwinganna Health Retreat in Australia owned by actor Hugh Jackman, the Cromlix Hotel owned by Olympic gold medalist Andy Murray, the Bedford Post Inn in New York owned by actor Richard Gere, Blackadore Caye in Belize owned by actor Leonardo Dicaprio, Rigsby's Guest House owned by actor Rupert Grint and the Greenwich Hotel in New York owned by actor Robert Deniro.

Read More About
Category: All, Entertainment, News