At the Queen's Club, London on Sunday afternoon, Bermuda's James Stout, the World Rackets Champion and world-ranked number 1 rackets player, defeated world-ranked number 3, Alex Titchener-Barrett, by four games to love to retain the British Open singles title he won last year.
The game scores were 15/8, 15/1, 15/7 and 15/11. This was the fourth time Stout has won the British Open.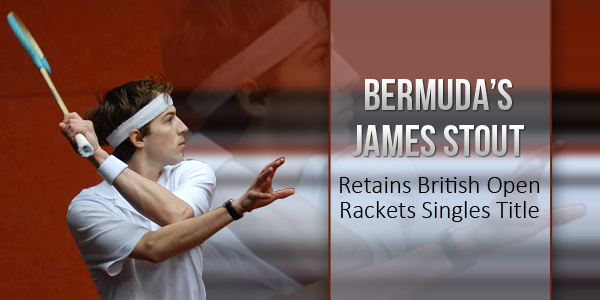 In the semi-final, Stout beat fourth seed Richard Owen by four games to love [15/10, 15/12, 15/8, 15/5], in the quarter-final he beat Ben Snell, the number seven seed, by three games to love [15/11,15/1,15/7], and in the first round he beat qualifier Nick Hutton, three games to love [15/8, 15/8, 15/10].
Titchener-Barrett similarly started his campaign in tremendous form. He racked up a three-nil victory over qualifier Alex Coldicott in the first round [15/1, 15/0, 15/3]. He then beat eighth seed Ryan Tulley in the quarter-finals [15/1, 15/3, 15/8].
In the semi-finals though he onlynarrowly edged-out third seed Tom Billings by four games to three, in a match that lasted three hours [15/5, 14/17, 6/15, 18/15, 7/15, 15/10,15/8].
The final between Stout and his arch-rival lasted just under an hour and a half.

Read More About