Bermuda's Jessica Lewis has been featured in the latest issue of Canadian magazine iRun, with the 6-page story showcasing top Paralympians who they said have "overcome enormous obstacles" and achieved "magnificent things."
Screenshot from the magazine, Ms Lewis is shown on the bottom right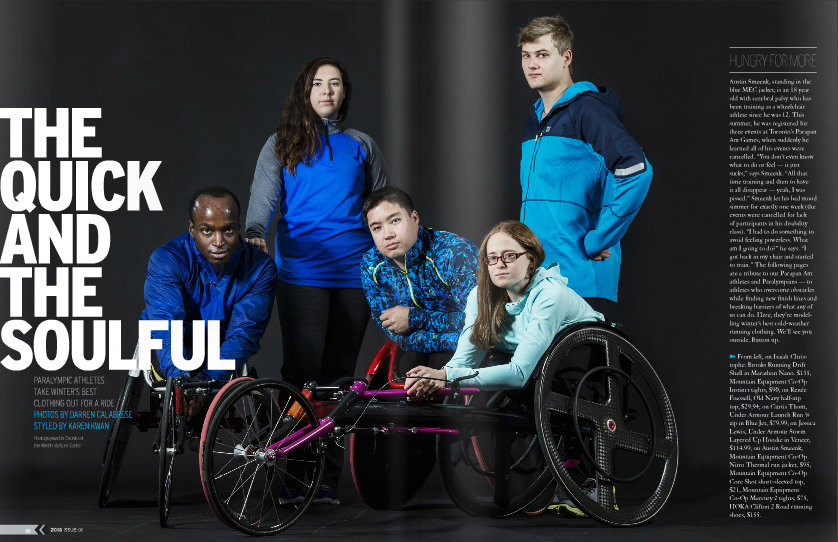 In describing the feature, iRun said: "It was a gathering that inspired not only because of the tremendous athletes in attendance—Jessica Lewis, Curtin Thom, Renee Foessel, Isaiah Christophe and Austin Smeenk — but because of the extraordinary attitude on display.
"All of our athletes have overcome enormous obstacles. But none of them feels sorry for themselves. Instead, they achieve magnificent things. Paralympic things.
"Things that people had told them, at one point, they'd never achieve. Well, the stars of our 2015 iRun winter fashion extravaganza have reached great heights, and all of them are just getting started, with the Olympics on everyone's mind.
iRun's video promo for the feature
"Thanks to companies like Under Armour, Mountain Equipment Co-op, Brooks, Sporting Life and Skechers for dressing our athletes. What follows is a brief behind the scenes look at a day that no one in attendance is likely to forget any time soon.
"The story comes out in the December issue of iRun, available across the country and online. Remember what you see here next time you think you're too tired to go out for that run."
The full magazine issue is below, the section featuring Ms Lewis starts on page 20
Last year Ms Lewis won Bermuda's first ever major medals in para-sports, claiming gold at the Parapan Am Games in Toronto as well as bronze at the IPC World Championships in Qatar.
Ranked 3rd in the world in the 100m and 4th in the 200m, she is now training for the 2016 Paralympics in Rio de Janeiro, Brazil, where she will be making her second Paralympic appearance for Bermuda.

Read More About